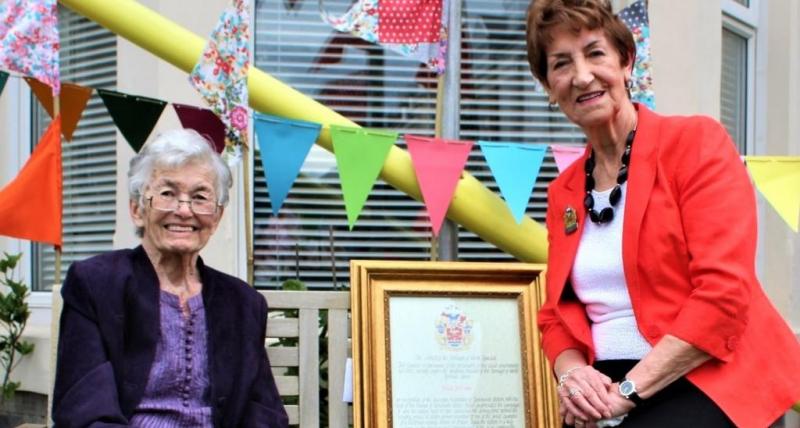 She was the driving force behind the stunning restoration of Tynemouth Station.
And now Ylana First has been honoured with North Tyneside's top award – the Freedom of the Borough.
More than 40 years ago Ylana took up the fight to save the historic Tynemouth Station, which was at risk of being partly demolished and turned into a platform halt (a station where trains can stop on a railway line) at the time.
She helped set up the Friends of Tynemouth Station and launched a petition to save the structure, which dates back to 1882, as well as the introduction of the weekly markets and book fairs.
She played an instrumental role in the campaign to have the unique Grade II* listed station and its expanse of ornate, glazed, cast iron canopies restored.
Thanks to the tireless dedication of Ylana and fellow members of the 'Friends' group, the restoration was completed in 2012 - its 130th anniversary year – and was opened by HRH The Princess Royal.
Today it is architecturally stunning and is considered to be one of the finest examples of Victorian railway architecture in Britain.
North Tyneside's Elected Mayor Norma Redfearn CBE visited Ylana at her home in Tynemouth to present her with the prestigious honour.
She said: "It really is quite wonderful what Ylana has achieved. The restoration has given the station a new lease of life, providing a memorable welcome to any first-time visitor arriving by train to Tynemouth.
"It is fantastic to see the station bustling with thousands of people every weekend as it hosts markets selling books, antiques, collectables and militaria. It is also used as a performance art space for events including music, dance and theatre."
This year is the 27th year of the book fair which includes local publishers, authors reading from their work, storytelling, papermaking, cartoon workshops and a small number of second-hand book stalls.
Mayor Redfearn added: "I'm sure that Ylana would be absolutely overwhelmed by the suggestion of awarding her the Freedom of the Borough for her work. However, it seems a fitting recognition of the long hard struggle that she has had that we're now blessed by the success of the station."
Ylana said: "I want to thank everyone for awarding me this great honour. It's unbelievable. I'm just overwhelmed by it all – it means a lot to me.
"If we work together we get great big things done." 
The Freedom of the Borough is the highest award the council can offer in recognition of an individual or group's achievements either having originated from North Tyneside, working in the borough or now living in the borough.
Previous recipients of the Freedom of the Borough have included Alan Shearer, Ian Le Frenais, Wallsend Boys Club, Girlguiding North Tyneside, Royal Navy vessel HMS Tyne, the Whitley Bay, North Shields and District branch of the Royal British Legion, Whitley Bay Football Club, Tynemouth Volunteer Life Brigade and rugby union star Sarah Hunter.