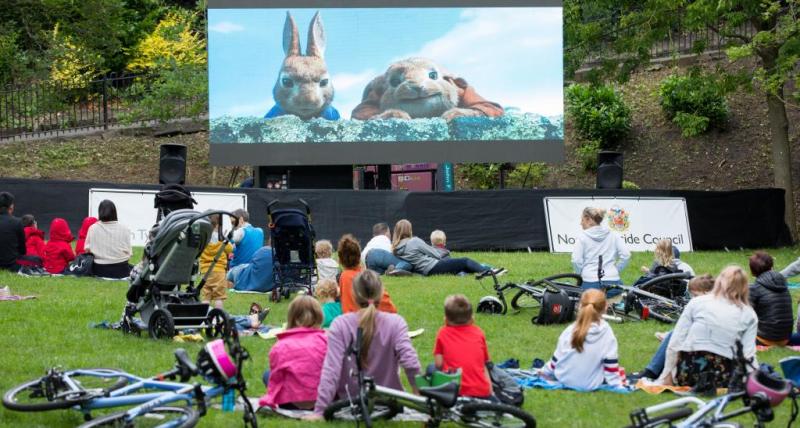 A free family film festival will be taking place this summer in North Tyneside's parks and green spaces.
A popular kite event will also be returning to the borough.
Blockbuster family films will be shown outdoors on an 18sqm screen in five locations between August 24 and 28, while a two-day 'Kites at the Coast' event will take place from August 15 to 16 on the Links in Whitley Bay.
Films including Dolittle, Spies in Disguise, Trolls World Tour, Sonic the Hedgehog and more, will be shown at Forest Hall's Springfield Park, Rising Sun Country Park, Wallsend Park, Killingworth Lake and John Willie Sams Centre in Dudley.
Screenings are at 10am and 1pm.
All showings are free to attend but spaces are limited to allow for social distancing and tickets must be pre-booked. 
Additional hygiene measures will be in place throughout the experience.
The skies above Whitley Bay will be awash with magnificent kites of all shapes and sizes on the 15-16 August including giant inflatables, sea creatures, lizards, birds, insects and dragons! The event runs between 11am and 4pm each day and is weather dependent.
North Tyneside's Elected Mayor, Norma Redfearn CBE, said: "We're all having to adjust how we go about our daily lives and we think it's important that people still have the opportunity enjoy themselves this summer as safely as possible.
"Many of our brilliant attractions are open for business and there are still many ways to get out and enjoy yourself during the holidays. These great events, delivered in a Covid-secure way, will add to that and give people a renewed sense of hope for better days ahead. 
"The safe return of outdoor events comes as the council continues to progress through our recovery phase."
The full list of films and locations is as follows:
Monday 24 August
Rising Sun Country Park
Trolls World Tour (U) / Spies in Disguise (PG)
Tuesday 25 August
Springfield Park, Forest Hall
Dolittle (PG) / Sonic the Hedgehog (PG)
Wednesday 26 August
John Willie Sams Centre, Dudley
Dolittle (PG) / Sonic the Hedgehog (PG)
Thursday 27 August
Wallsend Park
Trolls World Tour (U) / Spies in Disguise (PG)
Friday 28 August
Killingworth Lake
Secret Life of Pets 2 (U) / Dolittle (PG)
For full details on all events see www.visitnorthtyneside.com.