Chairman of North Tyneside Council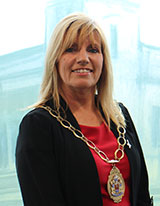 The Chairman of the Council is appointed on an annual basis to undertake civic roles and responsibilities during their year in office.
Chairman of North Tyneside Council
Councillor Cath Davis
and Consort, Councillor Karen Bolger
Deputy Chairman
Councillor Tommy Mulvenna
and Consort, Mrs Maureen Mulvenna
The Chairman:
oversees business conducted in the Council Chamber
represents the Council at civic functions in North Tyneside and across Tyne and Wear
Previously referred to as 'Mayor', the position of Chairman was created in 2002 when North Tyneside voted to have an Elected Mayor. The Elected Mayor is the council's political lead.
The Chairman's role is mainly to:
attend events
mark openings and special birthdays
If you would like the Chairman/Deputy Chairman to attend an event, please contact:
Carol Girvan
Chairman's Office
Quadrant
Cobalt Business Park
The Silverlink North
North Tyneside
NE27 0BY
Telephone: (0191) 643 5347
The Chairman's Lottery is designed to raise money for the Chairman's charities during their year in office.  After deduction of the prize pot, monies are transferred into a charity account and later presented to the charity(ies) at the end of the Chairman's year in office.  This year, the Chairman Councillor Cath Davis MBE has chosen to support three charities – Maggie's Cancer Centre in Newcastle, the North Shields Living at Home Scheme and the YMCA North Shields.
Maggies Cancer Centre offers a haven away from day to day life giving support to anyone with any type of cancer and their families and friends.  Maggies provides an opportunity to talk, access support and gain advice from a range of professional people.  Staffed by cancer support specialists, benefits advisors, nutritionalists, therapists and psychologists who can provide the support that's required by each individual.
The North Shields Living at Home Scheme tackles isolation and promotes independence and wellbeing amongst service users.  The befriending scheme led by volunteers provides interaction to members of the community who may otherwise have limited engagement outside their own home.  The service provides regular outings to garden centres and local concerts and provides the practical and social support people need.
YMCA North Shields is dedicated to strengthening people within the local community   Providing support to individuals enabling them to develop to their full potential in mind, body and spirit.  The environment is supportive, inclusive and energising – where young people can truly belong, contribute and thrive.
Chairman's commendation scheme
We want to build strong, active communities within North Tyneide. We think volunteering lies at the heart of this.
The Chairman invites members of the public to nominate a person our group who deserve recognition for their voluntary service.
The Chairman's Commendation and Young Mayor's Awards are open to everyone who volunteers within the Borough of North Tyneside. This includes young people.
All types of volunteering will be considered for an award, but activities must be outside of paid employment.
Nominees don't have to live in North Tyneside, but the activities they are nominated for must take place here.
You can make a nomination using the form below.
Nominations will be judged by a panel who will make the final decision on awards.
Nominees should have voluntarily contributed their time and effort in North Tyneside to one or more of the following:
creating a clean and pleasant environment
creating a safe and crime free neighbourhood
increasing training and working opportunities for residents
improving health, quality of life and wellbeing for other people
making a significant difference to an individual or their local community
supporting the provision within North Tyneside of sport, leisure, cultural activities, religions and community affairs, social services
helping others to reach their potential
responding to an immediate need, significantly affecting the lives of others
going 'the extra mile' as a 'local hero'
There are various levels of award:
general commendation
bronze
silver and gold
the Young Mayor's commendation award
The closing date for nominations for the 2017 awards was Wednesday 17th May. The awards ceremony will be held on Tuesday 13th June.
Successful nominees will get an invitation to attend the ceremony at Quadrant with an extended invitation for one guest.
Nominate someone for the Chairman's commendation award