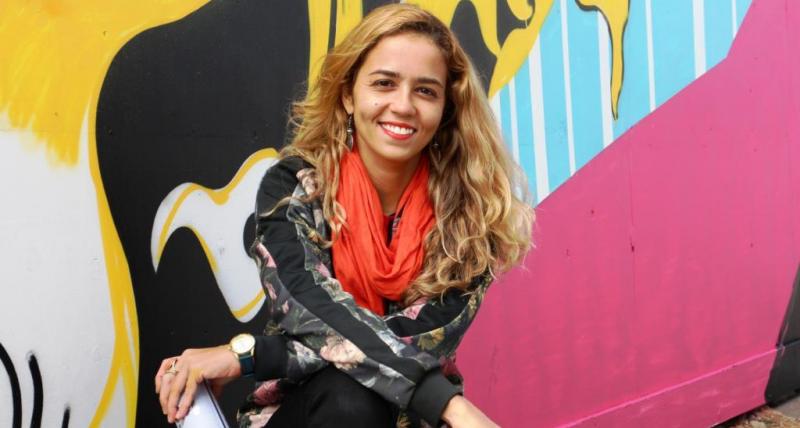 A prominent street artist has brought a taste of the Copacabana to Whitley Bay with an eye-catching mural.
Ananda Nahu has jetted in from her hometown of Rio-de-Janeiro to paint the colourful display on a stretch of blank hoardings outside the Spanish City Dome.
The mural, which is inspired by the coastal setting, features colourful images of wildlife and plants, and has been created using different types of spray paint.
It is aimed at injecting a splash of colour and life into the area where major building work is underway on the new Premier Inn hotel as well as the restoration of the iconic Spanish City set to begin soon.
The work is part of North Tyneside Council's £36m Seafront Master Plan to revitalise the coast between Cullercoats Bay and St Mary's Island.
Ananda said: "I try to create colourful, positive art which has an impact and includes lots of different cultures.
"I feel very honoured to be painting in a place with such a strong sense of history – the dome is amazing and it's not every day you get to work in a place like this.
"Whitley Bay is a beautiful place, I love it, and everyone has been so positive about my work. One guy even turned up and wanted to help! It's great to have that kind of love from people for art."
Cllr Eddie Darke, North Tyneside Council's cabinet member for leisure, culture and tourism, said: "I am delighted that we can bring an international flavour to the redevelopment of the coast with this work by a Brazilian artist.
"The Spanish City name itself has always given a cosmopolitan air to Whitley Bay as a destination. I am sure this artwork will add to that history, while pointing the way for visitors in the future."
Ananda has created the mural - with support from North Tyneside Council and majority funding from Arts Council England - during her visit to the North East where she will be unveiling her work at ¡VAMOS! Festival.
The event celebrates Latino cultures and runs until Sunday (12 June) at various venues throughout the region.
Nik Barrera, Festival Director, said: "We are extremely pleased to welcome Ananda back to the region – it feels like the perfect fit with the Rio Olympics just round the corner – and we are really glad to continue our healthy working relationship with North Tyneside Council.
"It's an added bonus to be able to showcase her work at the Spanish City, which is such a wonderful and iconic location, and it's really nice to be adding something different to the area in such a prominent place where lots of people will get to see it."
Ananda's outdoor artwork will be officially unveiled on Sunday (12 June) between 12pm and 1pm - visit www.vamosfestival.com for more information.
To find out more about the Seafront Master Plan go to www.northtyneside.gov.uk