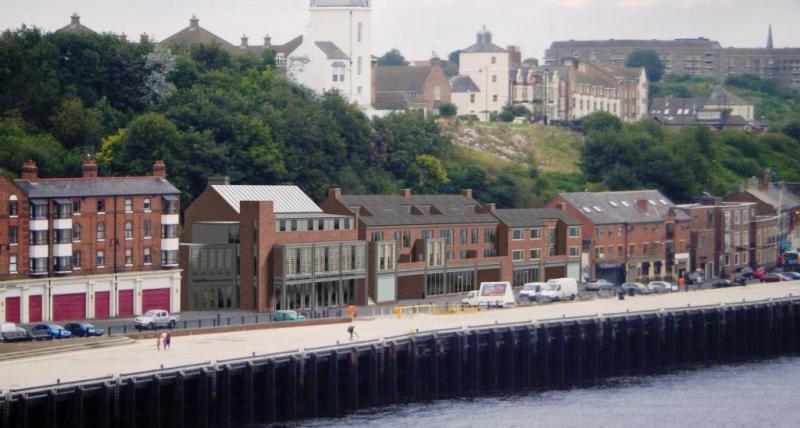 Work to transform an eyesore site on North Shields Fish Quay into new homes and retail units is underway.
Fourteen apartments with car parking and two retail units are being built on land at Bell Street, which has been vacant for a number of years.
The development forms part of the ongoing public and private regeneration schemes in the area, which continue to increase the popularity of the historic Fish Quay.
North Tyneside Council has worked with private developer Leadgate Developments to bring the scheme forward.
Elected Mayor Norma Redfearn said: "I am absolutely delighted to see work on this scheme getting underway – this site really has been an eyesore for too long now but I am sure that this development will be a huge improvement and is just what is needed.
"The regeneration of the Fish Quay is a top priority for us and a great deal has been achieved in recent years and helping to bring projects like this forward demonstrates our commitment to continuing to make the area vibrant and diverse where people want to live, work and visit."
Frazer Thompson, Director, Leadgate Developments, added: "We are really pleased with the final design for the development at Bell Street -  even though it is a fairly modern design it will still retain the historical feel associated with the Fish Quay and we believe it will fit well into the surrounding area.
"We are also confident that, not only is it the right time to push forward with the scheme but it will really bring this part of the Fish Quay up and finish off that section nicely and we look forward to seeing the finished product."
Ground works are well underway ahead of the main construction beginning in early summer with the project expected to be complete by mid-2018.
Most recently the land where the development is taking place was occupied by garages and a workshop before being demolished.
It was previously home to housing and the Blue Bell Inn, which were thought to have been built some time during the eighteenth century until they were demolished around 1930.  
The new flats and retail units are being built next to another development, which will consist of a new fish and chip restaurant and takeaway and coffee shop with offices above.
Artist's impressions show the development. Credit: CSM Architects