New hotel and restaurant opens in Whitley Bay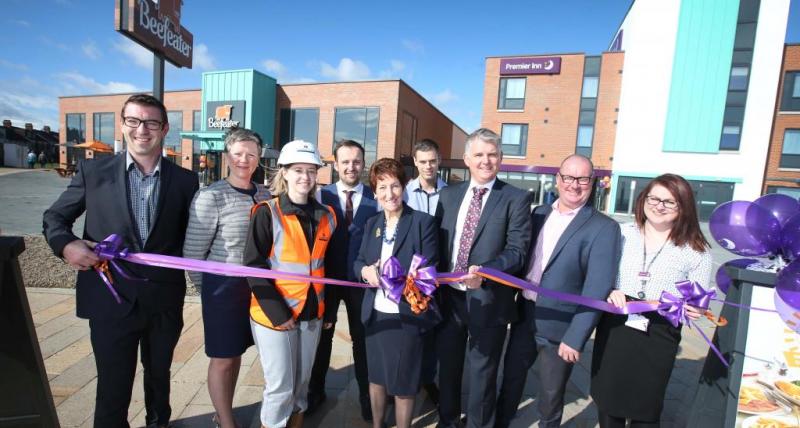 Today (Monday 31st July 2017) sees the official opening of a brand new Premier Inn hotel and Beefeater restaurant in Whitley Bay – a move creating dozens of new jobs
The development brings an investment to the area of £1.4 million and has seen the creation of 59 brand new full and part-time jobs.
The 68-bedroom Premier Inn is situated next to the iconic Spanish City Dome in front of the sandy beach of Whitley Bay in North Tyneside, perfect for a relaxing break, and only a short distance from the centre of Newcastle. All bedrooms will showcase the company's latest high-spec, modern design with a 40" flat screen TV, a luxury king-size Hypnos® bed, a choice of pillows and free WiFi. With over 760 hotels nationwide, Premier Inn is the UK's largest hotel chain, at more locations than any other hotel chain in the UK with rooms at Whitley Bay starting at £39 for a family room for four.
Tracy Lough, Operations Manager for Premier Inn Whitley Bay comments: "We're delighted to start welcoming guests from near and far to Whitley Bay, and hope that even more people will now be able to enjoy all that the area offers. As a business, we're absolutely committed to investing back into the areas in which we serve and before the doors have even opened the team have already been out fundraising in the local area raising over £1200 for good causes as we look to quickly establishing ourselves as a valuable and successful member of the community."
North Tyneside's Elected Mayor Norma Redfearn said: "I am delighted that the new Premier Inn and Beefeater are now open for business.
"This development is a key element of North Tyneside Council's Seafront Master Plan, which includes more than £36m of investment in the coast at Whitley Bay, so it is brilliant to see it open its doors.
"This is a really exciting time with the ongoing restoration of the Spanish City Dome, the refurbished Northern Promenade, which will reopen later this year, and the new-look Central Lower Promenade opening next year. I'm sure that the new hotel and restaurant will really complement all of this and we look forward to welcoming many new visitors to the borough."
Patrick Melia, the council's Chief Executive, added: "The arrival of major, household names like Premier Inn and Beefeater, is another sign that businesses are showing real confidence in Whitley Bay and that the town is going from strength to strength, and I wish the company every success going forward."
The brand new Beefeater, located right next door, will appeal to everyone with a light and welcoming environment for guests. The venue boasts a fresh look inside and out, with booth seating available for larger groups. With comfort and style a priority for Beefeater, visitors can enjoy the modern interior and relax in the spacious bar.
The brand new menu is packed with favourites, including tender steaks, mouth-watering burgers and fresh salads, with the new Daytime Saver Menu offering traditional lunch time classics such as the Open Chicken Sandwich, Beer Battered Fish and Chips or the Beef Steak Burger for just £5, not to mention Steak and Chips for just £6, available between Monday and Saturday before 6.30pm. The Beefeater will also be serving the famous Premier Inn unlimited breakfast from £8.99 for a choice of cooked and continental options or £6.99 for continental breakfast only. Kids can eat either breakfast option for free.*
Chris Salkeld, General Manager at the Whitley Bay Beefeater said: "We're delighted and proud to open Beefeater's doors to the public. We have spent a lot of time working on the presentation of the restaurant to give our guests the wow factor and we hope it will soon become a lynchpin of the Whitley Bay restaurant scene, enjoyed by locals as well as guests visiting from further afield.
"We are confident our visitors will enjoy the venue, food and dining experience as much as we do and friends and families can make the most of their time here."