Fly-tipper dumped mattress outside household waste recycling centre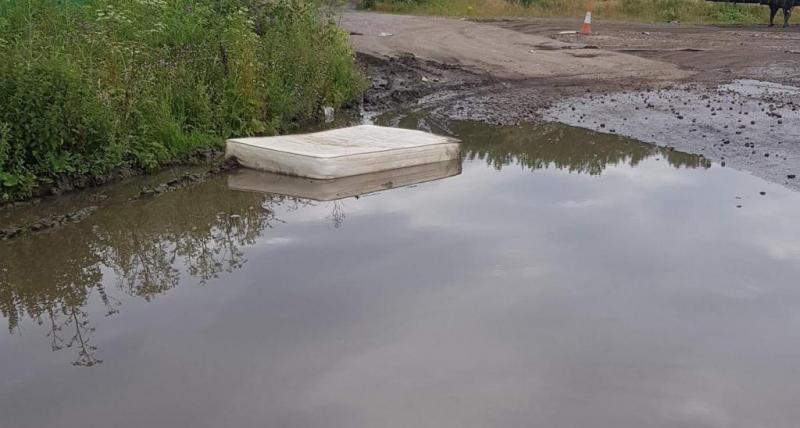 North Tyneside Council has fined a fly-tipper who brazenly dumped a filthy mattress after being refused entry to the household waste recycling centre in North Shields.
The council recently introduced new restrictions on very large vehicles entering the Suez-operated site, on Wallsend Road, to ensure the safety of other users and in an effort to curb the illegal dumping of commercial waste.
The public were informed of the changes in June, with vehicles over  two metres high and six metres long,  as well as 3m long trailers (including tow bar), and a weight restriction of 3.5 tonnes being introduced last month. 
Since then, the new measures have led to a 14% reduction in the amount of rubble being brought into the site. But somebody didn't get the message and, when refused entry, one man went and dumped the old mattress in broad daylight in a waterlogged ditch nearby.
Investigations by council enforcement officers, including a DVLA check, helped to identify the driver who was promptly tracked down and issued with a Fixed Penalty Notice for £50 after admitting the offence.
Councillor John Stirling, Cabinet Member for the Environment, said: Councillor John Stirling, Cabinet Member for the Environment, said: "The new rules for using the facility are clear and reasonable.
"On this occasion the vehicle exceeded our new size restrictions and was refused entry but, instead of doing the responsible thing and finding a commercial waste service instead, the driver saw fit to simply dump it in a ditch outside the site.
"We want to send a clear message that fly-tipping will not be tolerated. As always, our investigations have brought a swift result and the man has been hit with a fine. It's very important that people coming to the site are aware of the restrictions and organise their trip accordingly."
Residents who witness illegal dumping are encouraged to report flytipping.