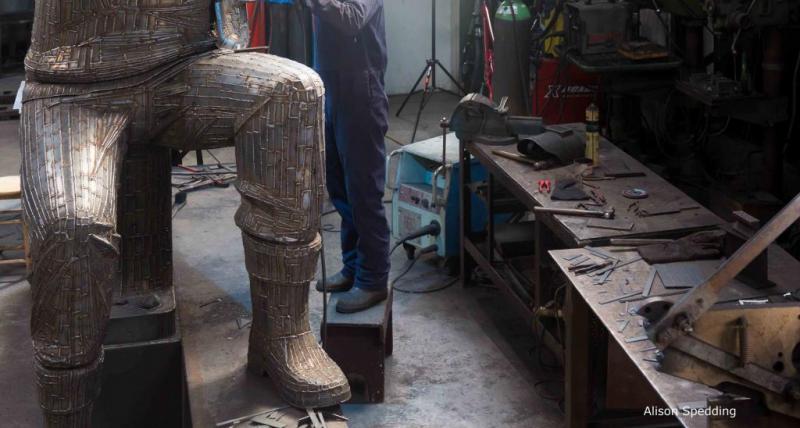 4 September 2017 - 4:07pm
A memorial to lost fishermen in North Shields is to be unveiled at an event on Sunday 24 September.
The impressive sculpture, named Fiddler's Green, which stands 10ft 6ins tall, is set to be moved into place at its permanent home at Clifford's Fort, on the Fish Quay.
The memorial is in honour of those fishermen who died doing their job after leaving the port of North Shields.
Members of the public are invited to the official unveiling at the Fiddler's Green Day event on Sunday 24 September, 11am-1pm, at Clifford's Fort on the North Shields Fish Quay.
There will be live music from local acts followed by a parade of fishermen before the grand reveal at 12.30pm.
The memorial will then be blessed and there will be a rendition of the song 'Fiddler's Green'.
The event will be rounded off with a toast and thanks before visitors will be able to take photographs next to the sculpture.
One of those who will be speaking at the event is Julie Myhill, whose partner James Noble was the last fisherman to lose his life after leaving the North Shields port.
James was the skipper of a fishing trawler which sank off the Northumberland coast in 2014, claiming his life as well two of his crew.
Henry Howard, vice chairman of NSFHP, said: "North Shields was built on the fishing industry and is still the largest prawn landing port in England. A memorial to its lost fishermen is long overdue and we are delighted that with the help of the local community, businesses and North Tyneside Council, this is about to be put right."
For more information about the event, which is being supported by North Tyneside Council and Cygnet Events, visit http://www.nsfhp.org.uk
ENDS