Annual jobs fair hailed a success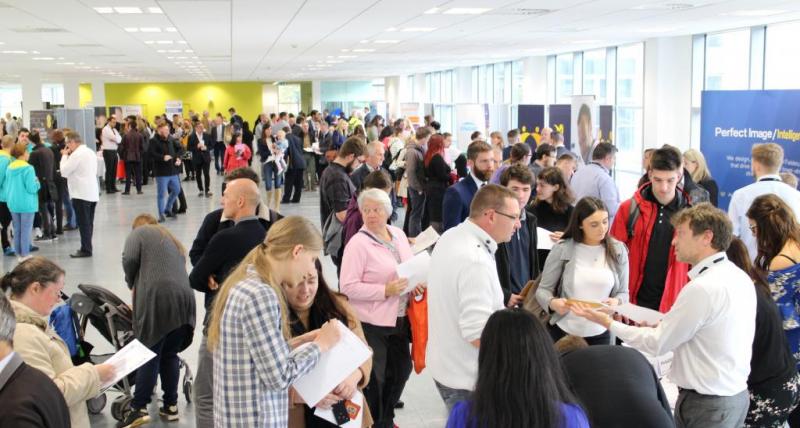 The annual Cobalt Jobs Fair has once again been hailed a huge success after over 1,000 job seekers attended.
Over 1,200 people attended the event last week, where hundreds of employment opportunities were on offer. Representatives of over 15 employers and support organisations were present to speak to those present on the roles they were promoting 
The fair was organised by North Tyneside Council in partnership with Cobalt Park with the event sponsored by Utilitywise. 
Information on a wide range of vacancies within IT, finance, sales, customer service and public sector were available on the day, including senior positions and apprenticeships, as well as graduate and training opportunities.
The event was officially opened by Elected Mayor Norma Redfearn, who said: "It's absolutely amazing to see so many people from all over the region coming along to a jobs fair in North Tyneside.
"Our borough has an incredibly healthy jobs economy and it's great to see this being recognised so widely.
"I'd like to say a big thank-you to everyone involved in putting this fantastic event together, as well as the businesses for coming along and sharing these opportunities."
In a survey undertaken of job seekers following the event, 90% rated the day good, very good or excellent and 77% stated that as a result of the fair they have been encouraged to continue to seek employment at Cobalt Park. 
Cobalt Park has a strong community feel and offers a full range of facilities, including The Village Hotel, Starbucks, Greggs and Tesco.  In addition, everyone working at Cobalt can exclusively access the MORE Card which provides fantastic money saving offers across the region plus a calendar of events.
ENDS