Affordable housing boost for Seaton Burn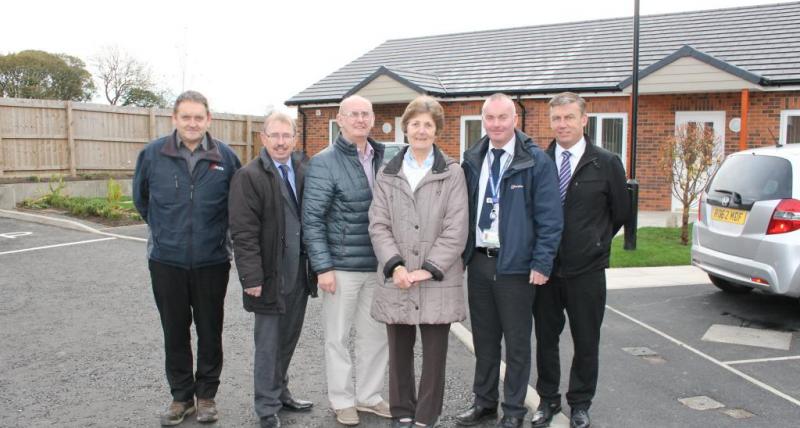 North Tyneside Council has announced the completion of six new bungalows in Seaton Burn as part of its affordable housing programme.
The two-bedroom bungalows have been built on the site of the former Chapelville sheltered accommodation and will help to keep the village affordable for local people.
Led by Kier North Tyneside, on behalf of North Tyneside Council, the £800,000 development took seven months to complete.
Each property is wheelchair accessible and has a level access shower, as well as a sprinkler system courtesy of Tyne & Wear Fire and Rescue Service. The development also boasts a sustainable urban drainage system to minimise flood risk.      
Representatives of North Tyneside Council and Kier North Tyneside visited the site to welcome new tenants, Joe and Carol Salkeld, who have just moved from nearby Killingworth.  
Carol said: "We're just getting moved in but we love the new property already. It's spacious and has a large garden, and the location is lovely and quiet as well. It's really important to keep building affordable homes. We couldn't be happier."
The development is a further boost to the council's affordable housing programme, which will see 3,000 new homes built throughout the borough by 2022.
North Tyneside's Elected Mayor, Norma Redfearn, said: "This is a fantastic development of accessible, affordable homes to rent in a great location in the village. I am certain they will make a big difference to the lives of local people and the community as a whole."  
Another scheme of 20 affordable homes on the former Dudley & Weetslade Social Club site is scheduled for completion in summer 2018 as part of a £2.4m investment in the village.
Kier regional director, Mike Furze, said: "We're proud of our work on this project, which has brought an empty plot of land back to use and provided six much-needed new homes for residents in North Tyneside.
"We're committed to working with North Tyneside Council to improve the quality of housing for residents across the borough, and look forward to delivering more affordable homes in the near future."