New sculptures brighten up nature reserve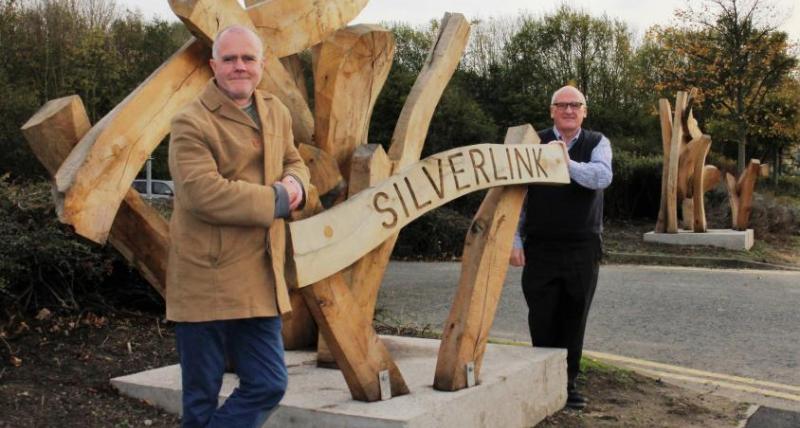 Eye-catching new artwork has gone on display at a popular North Tyneside nature reserve.
Five carved wooden sculptures have been installed at four different locations around the Silverlink Biodiversity Park.
They have replaced old and dilapidated signage and given the Local Nature Reserve, in the centre of Cobalt Business Park, a fresh, new look.
North Tyneside Council commissioned renowned local artist and sculptor Keith Barrett to create the pieces.
Keith, who is based in North Shields, has produced a diverse range of work locally, including the 'Look Out' point in Brierdene, Whitley Bay, and the Riverside Park Gateway in Gateshead.
Other examples of his work can be seen as far afield as Inverness, Teesside, Torquay and even Hawaii.
Of his latest creations he said: "I took this as an opportunity to create much more imaginative landmark sculptures that incorporated the name of the park but also symbolised in themselves the living energy and vitality of the natural growth and biodiversity that the park is there to support.
"Using locally-sourced oak, sustainably managed in Northumberland, I deliberately selected timbers with dynamic twists and curves, exaggerating those form in the cutting.
"I was then able to take advantage of these shapes and compose a series of works that are essentially abstract but clearly full of energy and life and with strong associations with thriving plants and animal movement.
"I believe these works much more effectively represent and communicate the qualities and purpose of the park to visitors than any form of more conventional signage could.
"They also have the added benefit of enhancing a visitor's experience by being beautiful artworks in themselves and to be enjoyed in their own right."
Cllr Eddie Darke, cabinet member for Leisure, Culture and Tourism, said: "I love the new sculptures at the Silverlink Biodiversity Park – they look absolutely fantastic and really brighten the area up.
"We wanted to replace the old signage with something really interesting that would stand out and that's why we chose Keith.
"He's done a brilliant job in creating something truly spectacular for the popular nature reserve and I'm sure residents and visitors will agree."
ENDS