Spanish City visit for local schoolchildren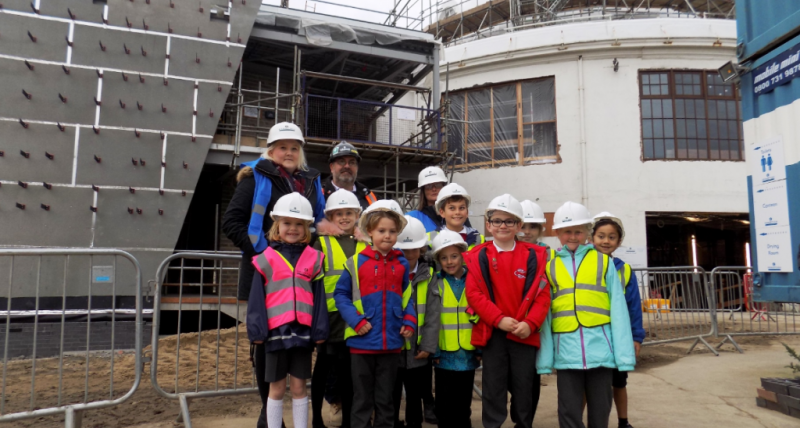 Groups of excited schoolchildren were given an educational tour of the Spanish City.
School council pupils from Marine Park First School and Year 4 students from Southridge First School paid a special visit to the site on Friday (3 November).
The children were taken on a tour of the iconic building were they learnt about the work taking place to restore it to its former glory.
North Tyneside Council, in partnership with Robertson Construction and architecture firm ADP, is carrying out a major £10m restoration of the building.
Project Manager Andrew Coleman from Robertson Construction led the tours and told the youngsters about what the construction project involves and what the future holds for the Spanish City.
Beforehand, the children were split into groups and set a special challenge to see who could build the tallest tower out of Lego.
The winners were Molly, Zafar, Mitchell and Leo from Marine Park whose tower reached an impressive 1.46m.
Carol Lynch, teaching assistant at Marine Park First School, said: "All the children really enjoyed the visit and had been looking forward to it for weeks beforehand.
"It was a thoroughly enjoyable afternoon - it was great that they were also given a task that taught them the importance of team work."
Sue Hall, head teacher at Southridge First School, added: "The pupils found it extremely interesting to visit a live construction site.
"The staff made it very accessible for our pupils and it's very important that they understand changes to their local community.
"We now have photographs of the site that we will use to support a mini project on the Dome.  
"We are really looking forward to taking the rest of the year group at a later date to see the progress that has been made."
Elected Mayor Norma Redfearn said: "I am delighted that these groups of schoolchildren have had the opportunity to see the progress being made.
"Hopefully our young people will enjoy visiting the dome in future just as much as their parents and grandparents."
Further public tours are taking place on Friday 24 and Saturday 25 November – to apply for a place email Spanishcitydome@northtyneside.gov.uk
ENDS