You are here
Latest milestone in Norham Road Bridge project
Latest milestone in Norham Road Bridge project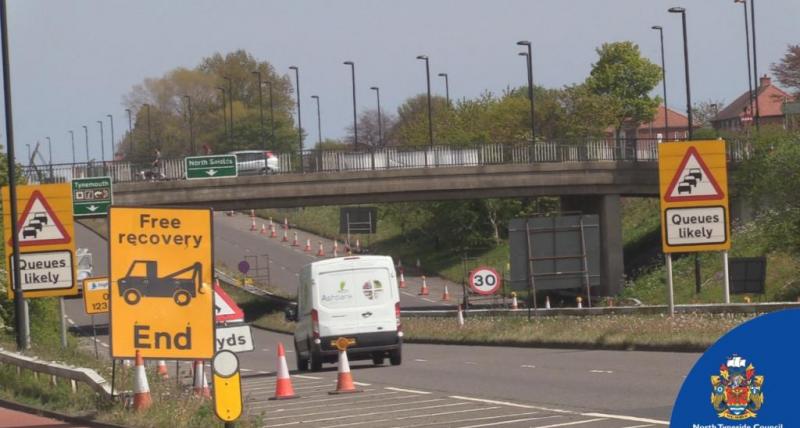 29 November 2017 - 3:54pm
The latest major milestone will be reached in the Norham Road Bridge project this weekend (1-4 December).
The extremely complex and challenging scheme has already seen the 50-year-old bridge, which crosses the busy Coast Road, demolished and work to replace it is continuing.
It forms part of North Tyneside Council's £7.2m A1058 Coast Road Improvement Scheme. A total of 45,000 vehicles use the Coast Road every day and this will increase by 15 per cent to 51,000 by 2029.
On Friday (1 December), contractors Sisk Lagan JV will take delivery of a set of new precast concrete beams that will form an integral part of the new bridge structure.
The beams will be lifted into place over the weekend and in order to complete this work quickly and safely, the Coast Road beneath the bridge will be closed to all traffic from 8pm on Friday (1 December) until the early hours of Monday morning (4 December).
During this time, all traffic will be diverted 'up and over' the existing slip-roads, so delays to journey times will be kept to a minimum.
It is expected that pedestrian and cycle access across the Coast Road using the remaining part of the 'old' bridge will be maintained throughout.
Cllr John Harrison, cabinet member for Housing and Transport, said: "The replacement of the old Norham Road Bridge with a new four-lane bridge across the Coast Road is an extremely challenging and complicated operation.
"Put simply, we are knocking down an old bridge and building a new one while tens of thousands of vehicles pass underneath every day.
"However, positive progress is being made and I'm delighted that we are set to reach another milestone. In the long term the scheme will have a number of benefits, including improved safety and journey times for motorists, pedestrians and cyclists on one of the busiest stretches of highway in North Tyneside.
"The work over this coming weekend has been carefully planned to minimise disruption but we would warn motorists to expect some delays and ask that they exercise caution when using the clearly-signposted diversions on the slip roads.
"We would like to thank all road users for their patience."
ENDS