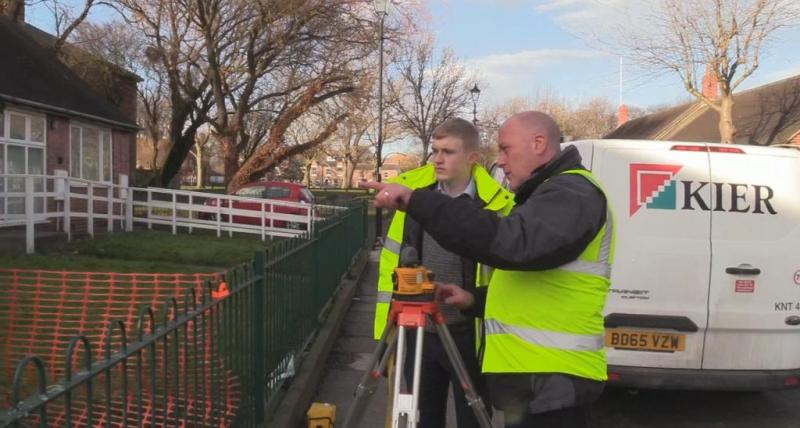 26 February 2018 - 3:57pm
There are opportunities aplenty in North Tyneside as the borough celebrates National Apprenticeship Week.
Taking place from March 5 – March 9, the council has organised a programme of events around North Tyneside, working with schools and local businesses, to showcase the achievements and benefits apprenticeships.
Last September, North Tyneside Council welcomed a fresh batch of apprentices, including building technician apprentice Joseph Gibson, who earned a role in the council's adaptation team.
Speaking on his new role, Joseph said: "My role involves site surveys, CAD drawings, specifications from all types of adaptations ranging from simple things such as steps and hand rails to bigger things like level access showers and ramps.
"I like that the role is varied. I can be in the office doing drawings, and then out on site doing measurements and surveys. After my apprenticeship I would love to carry on doing this.
"It is also satisfying to know our work helps our customers to have healthy, happy independent lives following our adaptations to their homes."
North Tyneside's Elected Mayor Norma Redfearn said: "I'm delighted to see the council supporting and encouraging apprenticeships in the local area.
"Young people bring such unique qualities into a workplace and I am delighted that we, as a council, continue to provide these opportunities.
"Apprenticeships allow young people to get excellent on-the-job experience, while getting qualifications that they can take on and use to kickstart their career.
"I'd encourage anyone interested to come along to our Get Up and Go event, which will have a number of opportunities in a variety of different working environments."
The week will culminate in North Tyneside with the annual Get Up and Go event on Saturday 10 March.
'Get Up and Go' aims to raise awareness and understanding of apprenticeships amongst young people aged 15-19 and their families. It has proved to be a popular event, with over 600 people attending in 2017.
The session will run from 10.30am to 1.30pm at the council's HQ on Cobalt Business Park. Young people can drop in at any point for any length of time during the session.
The event will feature over 40 employers and providers who are actively seeking to employ and support apprentices within their business.
These will include opportunities within businesses such as Accenture, Capita, Northumbria Healthcare and North Tyneside Council. There will also be organisations offering various volunteering opportunities.
Advisers from the Connexions service will be at the event to offer any advice or information, if necessary.
For further information on the Get Up and Go event, contact the Connexions service on (0191) 643 6965.
To find out more about apprenticeships in North Tyneside, email employability.skills@northtyneside.gov.uk or go to www.northtyneside.gov.uk and search for 'apprenticeships'. 
ENDS