Demolition work clears the way for Northumberland Square's revival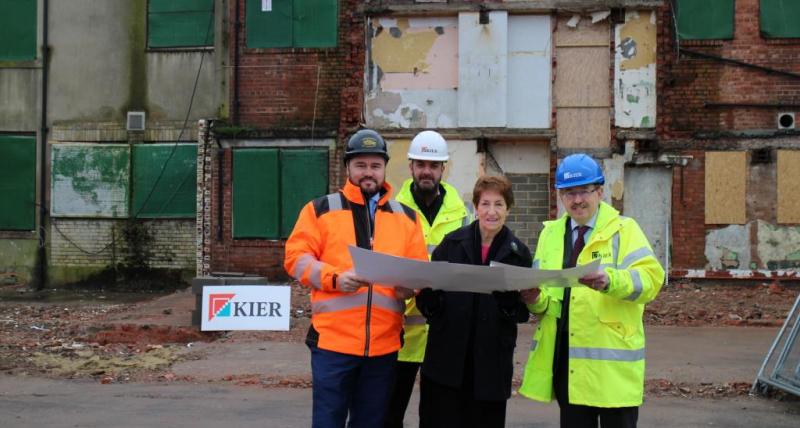 WORK to redevelop historic buildings in North Shields is gathering pace following the demolition of 1950s office extensions.
North Tyneside Council is preparing to start work on a £5.6m project to transform listed Georgian buildings at Northumberland Square as part of its regeneration plans for the town.
The scheme will see the delivery of 28 homes consisting of new builds and refurbishments.
Kier North Tyneside and Thompson's of Prudhoe are nearing the completion of their work to remove the unsightly 1950s extensions at the rear of the properties, between Upper Camden Street and Albion Road. This will alllow the properties to be restored to their original condition.
Work will continue on the site for a number of weeks with construction of the new scheme expected to start towards the end of the summer 2018.
The council says the highly-anticipated project will bring significant economic benefits to the town, boost local businesses, and play a central role in its ongoing regeneration.
North Tyneside's Elected Mayor, Norma Redfearn, said: "Northumberland Square is an important local landmark and a conservation area with architecture that only exists in a handful of British towns and cities. 
"The demolition work allows us to move ahead with our plans for the front of the square and I know that local people and businesses will be eager to see how the project takes shape.
"These new homes will be redeveloped to an exceptionally high standard, with great care and respect for these historic properties and the distinctive character and heritage of this lovely square."
Kier regional director, Mike Furze, said: "We're proud to be involved in the development of Northumberland Square, which will eventually provide 28 much-needed new homes for residents in North Tyneside.
"We continue to be committed to working with North Tyneside Council to improve the quality of housing for residents across the borough, and look forward to supporting the council deliver a range of new homes in the near future."
The Northumberland Square scheme is one of several residential construction projects being brought forward by North Tyneside Council to support their regeneration ambitions. This includes the redevelopment of The Avenue and the demolition of the Whisky Bends building in Whitley Bay.