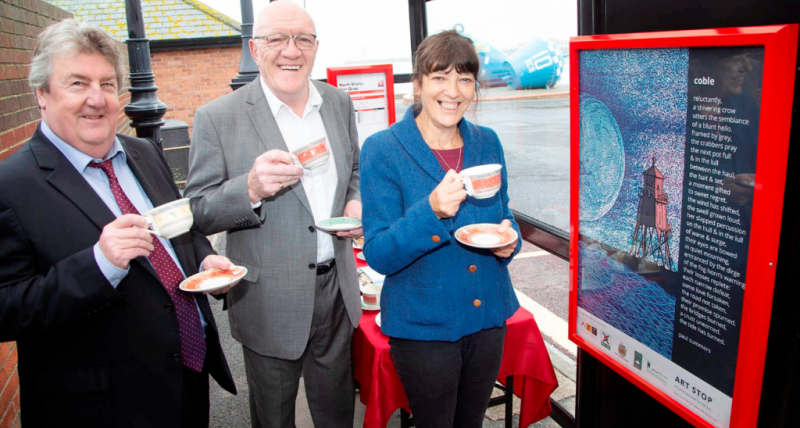 Passengers can now enjoy some unique art while they wait for their bus as part of a welcome makeover of North Shields Fish Quay.
The new bus shelter at Fiddler's Green is billed as the latest gallery for professional artists and writers in North Tyneside.
North Tyneside Council's North Shields Fish Quay Coastal Communities Team, FISH (Folk Interested in Shields Harbour) and Studio Above the Fish Shop developed the idea for an 'art stop' in partnership with the council and Nexus.
It already features work by local poet Paul Summers, who was inspired by his daily walks between Tynemouth and North Shields, and various other pieces of art will also be added and change every few months. 
Artist Helen Smith, who runs Studio Above the Fish Shop on the Fish Quay, said: "North Tyneside is spilling over with talented artists and writers.
"The art stop is a great way for them to make a new artwork or poem for the enjoyment of visitors, residents and those of us who work on the Fish Quay."
Cllr Frank Lott, Chairman of the North Shields Fish Quay Coastal Communities Team, said: "It's fantastic to see the new art stop in place on the Fish Quay.
"It is a unique feature that really enhances the area for residents and visitors and is a great way of showcasing the artistic talents of so many local people.
"This is the latest example of the Coastal Communities Team's commitment to making public spaces around the Fish Quay more attractive and promoting the visitor economy."
Huw Lewis, Customer Service Director, Nexus, said: "This year we celebrate 40 years of public art on Tyne and Wear's transport network. Throughout the years our passengers have welcomed works from both local and national artists which have enhanced journeys and benefited our communities.
"We are delighted to be  a partner in the Fiddler's Green project and look forward to finding out what is to be included in the future displays."
The 'art stop' is one of a number of improvements around the Fish Quay, which have been completed through the Coastal Community Team.
The Coastal Community Team is a local partnership made up of North Tyneside Council and a range of local interest groups, businesses and stakeholders from the community. The team delivered the brand new bus shelter before the artwork was installed.
The other recently-completed changes include:
•    Fifteen new commercial bin stores – installed to improve the appearance of the area, particularly for people eating and drinking nearby, and resolve issue with fly-tipping and vermin
•    A new Fish Quay website has been launched – www.fish-quay.com – featuring information about the quay, things to do, places to eat and drink and much more
•    New Fish Quay branding – developed in partnership with Thinkpad Creative and the Coastal Community Team, the branding is used on the new website and all promotional materials and events
There is more to come too with two large signs being developed to be placed at either end of the Fish Quay, in the Tanners Bank and Bell Street areas, to welcome people and direct them around the quay.
Three new CCTV cameras covering the entire quay are also in operation with a further three due to go live by next month (September) to help improve security.
Cllr Bruce Pickard, North Tyneside Council's Deputy Mayor and Coastal Community Team member, said: "These are exciting times for the Fish Quay – this is an area that is really on the up.
"Alongside our partners we have worked hard to deliver these improvements, which I am sure residents and visitors alike will appreciate."
ENDS