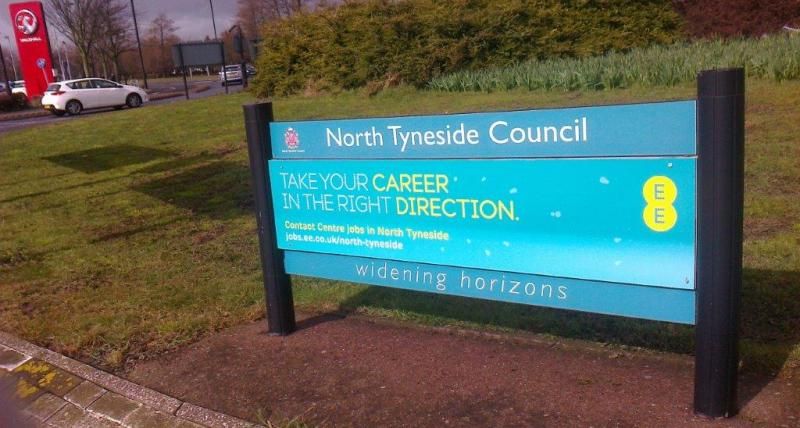 North Tyneside Council offers advertising on:
Coast Road bridge banners
'Our North Tyneside' magazine
Roundabouts across the borough
Litter bins in town centres and at the coast
See the attached rate card for full details, or why not take advantage of one of our New Year special offers (see below)? Contact us at marketing@northtyneside.gov.uk or call (0191) 643 7077 for more details and availability.
You can also join our mailing list to receive advance notice of special  offers, click here to read more.
New Year special offers:
3 weeks for the price of 2 on Coast Road bridge banners: Book your banner to be installed by 25 March 2019 and we'll give you an extra week free. For £450 your advert will be seen by tens of thousands of motorists all day, every day, for three weeks. We can design your banner at no extra cost. Price excludes VAT.
Short-term roundabout advertising: We're offering selected panels for 8 weeks for £230 – that's less than £29 per week and includes design costs. Price excludes VAT. For bookings installed by 25 March 2019.
Your advert on all approaches to a roundabout for £1,999: The roundabout at the junction of the A189/A188 is on our border with Newcastle and is one of the busiest in North Tyneside – used by drivers using the Spine Road to and from Newcastle, travelling from Four Lane Ends and from Benton Lane. Four panels are available for advertising, which we are offering as a package for £1,999 for 12 months; or £1,100 for 6 months. Design work is included and you can have the same advert on all four panels, or vary the design. Prices exclude VAT.
See our rate card below for full details of all our advertising options.
Related documents