You are here
Council to deploy new fleet and electric vehicles as Kier transfer nears completion
Main content
Council to deploy new fleet and electric vehicles as Kier transfer nears completion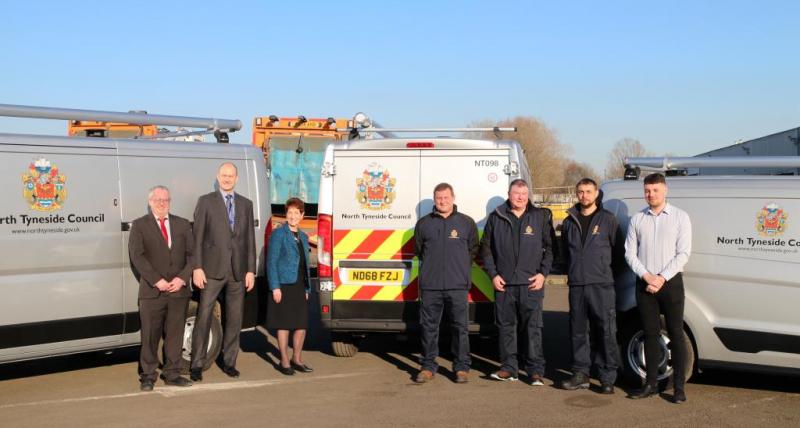 From April 1, services currently delivered by Kier North Tyneside will return to the direct management of the council along with almost 400 members of staff. 
As part of the changeover, the council has invested to replace the outgoing Kier fleet with new vehicles to provide construction, housing repairs, and maintenance services for 14,000 properties in the borough.
The fleet will include 10 electric vehicles to help reduce harmful emissions, reduce fuel costs and improve local air quality, as part of the council's commitment to keeping the borough green and sustainable.
A number of the new vehicles – recognisable by their silver paint and council crest – are already in service and tenants are being made aware of the changes to avoid any confusion.
Kier staff are also being issued with council-branded uniforms. 
North Tyneside's Elected Mayor, Norma Redfearn CBE, said: "This is an exiting time as we prepare to bring these services back in-house. A massive amount of work is happening behind the scenes to ensure a smooth transition and things are progressing very well.
"We look forward to welcoming our new colleagues in just over a month's time. Many are well known in the community and they are highly valued by North Tyneside Council.
"The new vehicles will ensure they are properly equipped to deliver a wide range of services right across our borough and help us make service improvements from the outset."
Tenants will benefit from a more flexible repairs service, including improved appointment times, no longer needing an appointment for external repairs, and better value for money.
Cllr Steve Cox, cabinet member for housing, added: "There will be some superficial changes such as Kier staff wearing council uniforms and driving council-branded vehicles - but the real change will be the improved efficiency, convenience, and value for money of the service on offer."
During the transition, tenants should not experience any change, delay or disruption to the service they receive and can continue to request any repairs via the usual methods – by calling 0345 2000 102, online at www.northtyneside.gov.uk  or at a Customer First Centre.