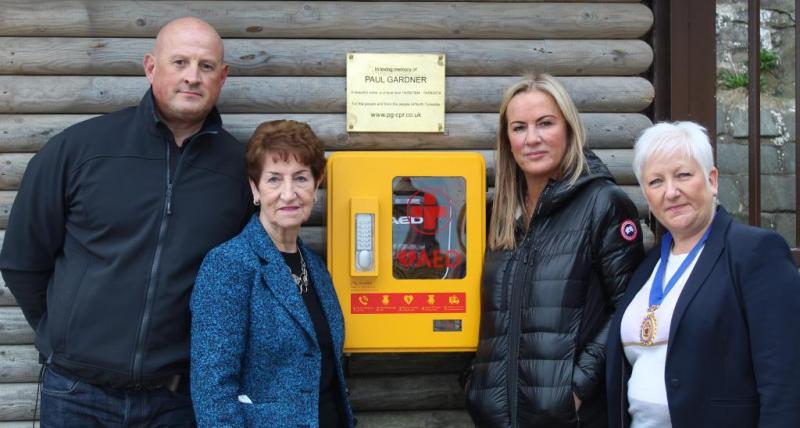 The family of a young man who died in a tragic swimming accident have unveiled a plaque and life-saving equipment in his memory.
Paul Gardner, from North Shields, died after getting into difficulty in the water while celebrating his 24th birthday with friends in Ibiza in August last year (2018).
His mother, Carla Hunter, and stepdad, Billy Ions, have since set about raising money for life-saving defibrillators in Paul's honour.
They have worked with North Tyneside Council to install five defibrillators along the North Tyneside coastline – two at Tynemouth and three in North Shields.
Mrs Hunter and Mr Ions were joined by North Tyneside's Elected Mayor Norma Redfearn CBE and Cllr Wendy Lott, Deputy Chairman of the council, at Crusoe's cafe in Tynemouth to unveil one of the defibrillators and plaques dedicated to Paul's memory.
Mr Ions said: "We chose to do the unveiling here because Paul used to come here and walk his dog with his other brother.
"It's absolutely brilliant to see it here. From the money that was raised from people across North Tyneside, and everybody who knew Paul, it's fantastic that we can do something like this and hopefully save some lives off the back of it.
"After Paul passed away his mum and I thought there's just nothing there if this was to happen again. So we raised enough money for some defibrillators and were contacted by another young girl called Bobby Potts who was doing the same thing for another charity in the North East and we thought it would be nice to give back in Paul's memory too.
"Paul was just a lovely, lovely lad. You couldn't have met a nicer kid. He didn't have a bad bone in his body. I don't know anyone who ever had a bad word to say about him.
"We'd just like to thank everyone from the council, the lads who fitted the defibrillators and everybody who has helped us with the fundraising – nobody has ever said no and this is something positive to come out of what's happened."
Mayor Redfearn said: "The unveiling was a very sad occasion but it's something we can be very proud of because this is a wonderful thing the family have done in raising a great deal of money to provide all these defibrillators here in North Tyneside.
"We have worked very closely with them and its marvellous how people have rallied round – he must have been a very fine young man because people have given so generously.
"It must be very upsetting for this family but this is something to be very proud of. I would like to say a big thank you to them for what they are doing."
Each defibrillator has been registered with the North East Ambulance Service and will have a Community Guardian who will maintain the equipment and ensure it is available for use when needed.
Howard and Jacqueline Wilson, who own Crusoe's, have been entrusted with the defibrillator at their café and staff there are trained in using it.
Mr Wilson said: "We are honoured to have the equipment here as it will be a tremendous asset to this part of the coastline and if it saves a life that will be unbelievable."
The other defibrillators are located at Riley's Fish Shack at King Edwards Bay in Tynemouth, the YMCA Nursery building in North Shields, at the Fish Quay toilet block in North Shields, and at the Royal Quays Marina entrance to gangplanks.
To find out more about the fundraising in Paul's memory visit www.pg-cpr.co.uk . A new PG CPR app is also nearing completion and will be available to download in the next few weeks, more information on the website.