You are here
North Tyneside supports Clean Air Day
Main content
North Tyneside supports Clean Air Day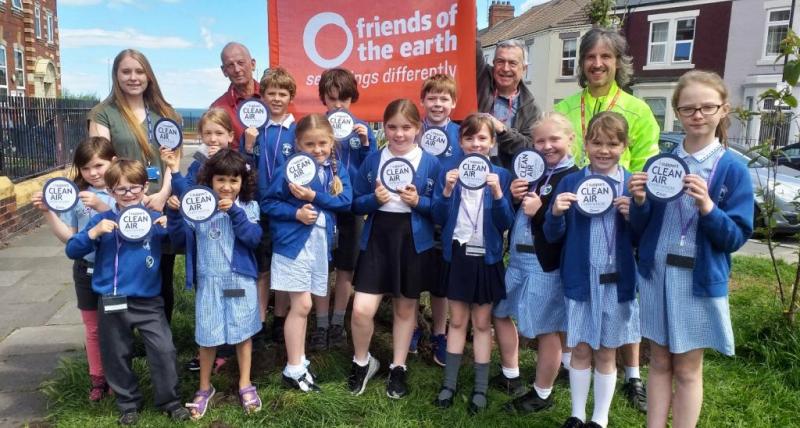 Little ones led the way as North Tyneside marked Clean Air Day on Thursday (20 June).
Children from Sir James Knott Nursery School and Shiremoor Primary School cycled, walked or rode scooters to school as parents were encouraged to leave their cars at home for the day.
It was part of North Tyneside Council's efforts to support Clean Air Day – an annual national event held to raise awareness about pollution and how we can all help to reduce it.
Pupils from the Eco Club at Rockcliffe First School are involved in a number of clean air projects and have created an allotment in the school playground.
The school has also been working with the council's Go Smarter team and North Tyneside Friends of the Earth to monitor air quality around the site.
The results will be analysed and used to demonstrate the impact that cars outside the school can have on children's health and to educate them around air quality.
Tim Watson from North Tyneside Friends of the Earth said: "It is essential that children are able to reach school without suffering the effects of polluted air and in partnership with the Go Smarter team, using the national Clean Air campaign materials, we hope strategies to encourage walking and cycling, and car free areas around schools, will bring real benefits."
Businesses got involved too. People who work at Cobalt, Quorum and DWP Tyneview Park were urged to travel sustainably.
All three major local bus operators, Go North East, Stagecoach and Arriva, provided free transport from Metro stations to each site and workers at Cobalt who took part were given the chance to win an iPad Pro – the winner, Chris Knott, roller skated to work.
Staff based at Cobalt could also reward themselves by showing pledge cards at The Village Hotel to receive 20 per cent off food and drink on the day.
Tynemouth-based electric bike company Ride Electric ran a demonstration day at Cobalt giving people the opportunity to try an e-bike.
And taxi operators agreed to re-emphasise their no-idling policies when at ranks or waiting for a fare.
Lynn Cramman, Cobalt Development Manager, said: "It was great to be involved with Clean Air Day 2019 - thank you to all our staff and occupiers at Cobalt Park. We used the day to highlight the excellent alternatives to single occupancy car use available to our staff every day."
Elected Mayor Norma Redfearn CBE said: "Clean Air Day in North Tyneside was a huge success. It was fantastic to see local children and businesses embracing the event and doing their bit to help raise awareness of air quality.
"Poor air quality is a serious issue which affects us all but there are lots of ways we can do to improve things as part of our every day lives."
Cllr Carl Johnson, cabinet member for Environment and Transport, added: "Initiatives like Clean Air Day are an opportunity for everyone to come together and help make the air we breathe cleaner.
"By travelling sustainably, even just one day a week, you help reduce poor air quality on our busiest roads, improve your own mental and physical health through increased physical activity and reduce congestion at peak times."