You are here
Arned Forces week in North Tyneside
Main content
Arned Forces week in North Tyneside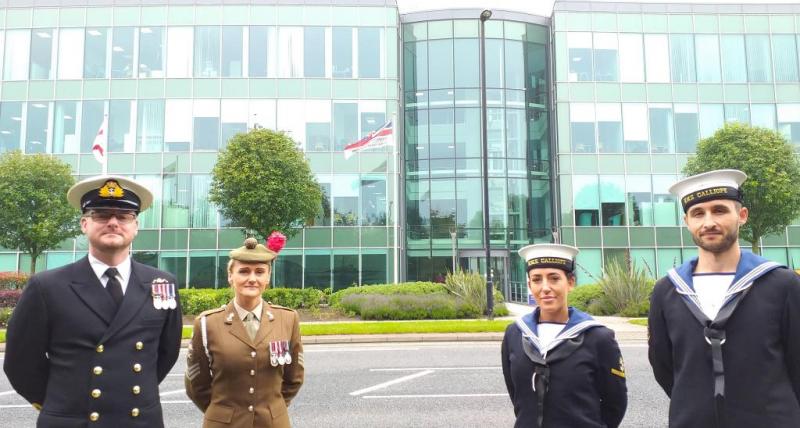 North Tyneside is showing its appreciation to the armed forces with a week-long programme of events.
In the run-up to Armed Forces Day on June 29, North Tyneside Council will be holding events across the borough to commemorate armed forces personnel in the borough all week:
Monday 24 June: Flag raised at council's Quadrant HQ and Veterans Badge presentation.
Wednesday 26 June: Reservist Day. Further info: http://bit.ly/2ItVN5j
Thursday 27 June: Breakfast Club, YMCA, North Shields. Info - http://bit.ly/2XsLBly
Friday 28 June: Social Event, Forest Hall ex Service Club
And on Armed Forces Day (June 29), a special event for armed forces personnel will be held in Northumberland Square.
In Northumberland Square, North Shields, between 10am and 3pm, there will be stalls from local groups offering various opportunities for armed forces personnel.
There will also be a live musical performance from the Northumberland Scouts Group and a one-minute silence will be observed at 11am.
Cllr Gary Bell, cabinet member for Adult Social Care and the council's Armed Forces Champion, said: "Here in North Tyneside, we have always supported and honoured the work of our veterans and serving personnel.
"For us to be able to put on this week-long series of events, and really show our appreciation, is amazing and I'm immensely proud that we can put on these kinds of events."
As part of the council's efforts to commemorate the armed forces, a new memorial bench was been put in place at the White Swan Centre in memory of Major Bill Campbell, as part of a Falklands Remembrance Service.
Major Campbell had a distinguished career in the British army and served in the Royal Army Ordnance Corps. Following his retirement, he was actively involved with the Royal British Legion and was an integral member of the team which organised the annual remembrance parades in North Tyneside. Bill was the recipient of the Royal British Legion's Gold Badge for 20 years service.
Two more memorial benches on the Southern Promenade, in Whitley Bay, are set to be refurbished – they were installed in memory of Simon Lawson of HMS Ardent, who was killed in the Falklands War on May 21, 1982.
To find out more about the work North Tyneside Council does with armed forces and ex-armed forces personnel, visit www.northtyneside.gov.uk.
ENDS