You are here
Communities urged to add colour to Tour route
Main content
Communities urged to add colour to Tour route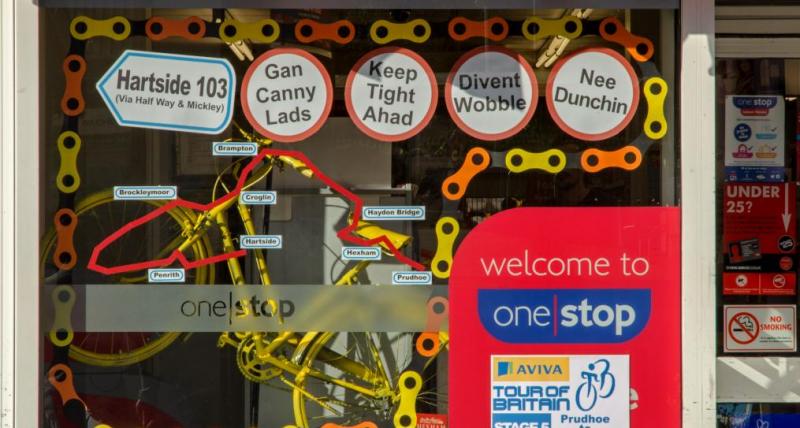 Businesses, community groups and residents in North Tyneside are being urged to show their support and passion for cycling by helping decorate the OVO Energy Tour of Britain race route.
People can take part in the colourful project painting and displaying old or unwanted bikes to celebrate Stage Three of the race on Monday 9 September.
Anyone can also get involved by dressing their streets and shop windows with colourful bunting, flags, floral or cycling displays.
The 114-mile stage starts in Berwick, passing through Northumberland and onto the North Tyneside coast taking in Whitley Bay through to North Shields and into Wallsend, before continuing to Newcastle city centre, with a spectacular finish on Grey Street. 
In 2017 the Tour of Britain swept through Northumberland creating a wave of excitement as some of the world's top cyclists cycled through our communities.
Residents and businesses colourfully dressed the route with bikes and bunting, and thousands of spectators lined the route to cheer on the riders and give them a fantastic welcome. 
Organisers hope that scores of local communities across the North of Tyne area will be just as involved this year.
Cllr Sarah Day, North Tyneside Council's Cycling Champion, said: "Cycling is more popular than ever here in North Tyneside and I know many of our residents, businesses and schools are really looking forward to catching a glimpse of the Tour of Britain riders.
"It will be a fantastic opportunity for everyone to get involved and embrace the spirit of the event!"
North of Tyne Mayor Jamie Driscoll said:   "We've seen from other events like the Tour de France and Yorkshire what a spectacle these races can be when communities get involved, and we want to create that same kind of buzz in our region.
"The Tour of Britain will be broadcast nationally and internationally – this is great chance for the world to see what a beautiful area we live in. And if we can get more people cycling, that's an extra boost."
ITV4 plan to screen live free-to-air coverage of each stage, along with a nightly highlights programme of the best of the action, which will be available to 166 countries around the world.
The eight-stage race runs from 7 to 14 September –  full route details can be found here.