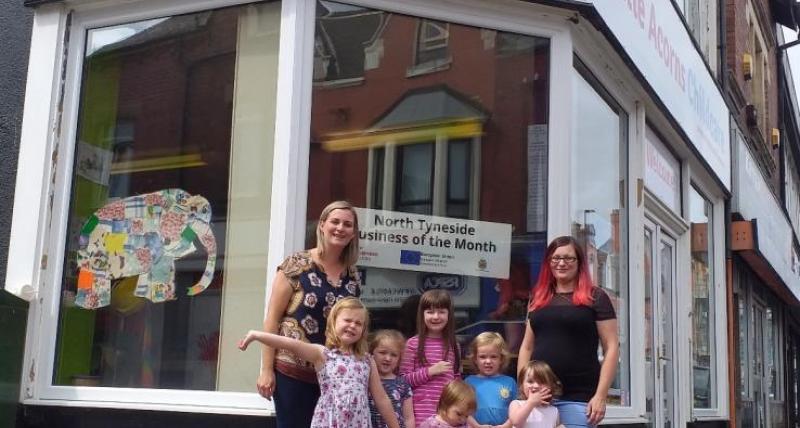 Twin sisters who run a children's nursery together have put their success down to creating a calming, family feel.
Emma Smith, a qualified school teacher, founded Little Acorns Childcare in Whitley Bay in 2016 as she wanted to spend more time with her young daughter.
Her identical twin Louise Mullen, a solicitor, came on board two years later after giving birth to a daughter of her own.
The nursery was rated outstanding by Ofsted in October 2018 while it was run as a child-minding business from Emma's home.
As their waiting list was so long the pair decided to expand to their own premises in the town centre and have recently taken over the soft play centre based below them.
Now there's even more cause for celebration as they have been named July's North Tyneside Business of the Month.
Emma said: "We're absolutely delighted to be named Business of the Month – we've gone from strength to strength in the last couple of years so this really is the icing on the cake.
"We love being based in North Tyneside. There are so many businesses which all seem to help each other and everyone in our community seems to know Little Acorns.
"The reason we have been so successful is down to the strong family feel we have created which has resulted in a warm and nurturing environment for little ones.
"We also have a strong focus on mindfulness and many people comment on how calm our nursery is."
North Tyneside Council's The Business Factory, supported by the European Regional Development Fund, shines a spotlight on the quality of new businesses based in the borough each month with the Business of the Month campaign. 
Emma said: "Setting up the nursery was the biggest challenge as there are so many checks but North Tyneside Council were a great help and offered support every step of the way.
"They certainly made the whole process less frightening!"
Louise added: "The council have been incredibly supportive and the Early Years team in particular have been amazing and we have been assigned a link officer who has answered all our questions.
"We are part of the Whitley Bay Chamber of Commerce and through that have created some strong business links.
"Our Whitley Bay have also helped promote our nursery and we love being part of the such a wonderful and supportive community."
Emma and Louise both say they find running the nursery and working with children extremely rewarding and have some important advice for anyone looking to setting up their own business.
"Write a business plan! This helped us so much and meant we didn't overspend setting up," they said.
"We did a financial forecast for the first 12 months and kept track of our finances week by week in the beginning.
"Also, work hard to find the right mix of staff as they really make the setting welcoming – people are far more important to children than toys or resources!"
Janice Ross, Business Advisor at North Tyneside Business Factory, said: "To be recognised by other businesses and loyal customers, taking home the title for July is huge achievement and I'd like to take this opportunity to congratulate Little Acorns Childcare on being named Business of the Month.
"To be rated outstanding by Ofsted, take on a premises and a soft play centre in little under a year is fantastic - it shows the entrepreneurship, and dedication which is here in North Tyneside."
Any small or medium-sized business in North Tyneside can nominate themselves or somebody they know for Business of the Month; simply provide a reason – ideally within 140 characters - why they think they should be selected and come along to the monthly business coffee morning. 
Nominations can be tweeted to The Business Factory using the #NTCBiz, posted on its Facebook page or emailed to info@thebusinessfactory.co.uk
For more information about Little Acorns visit their website.