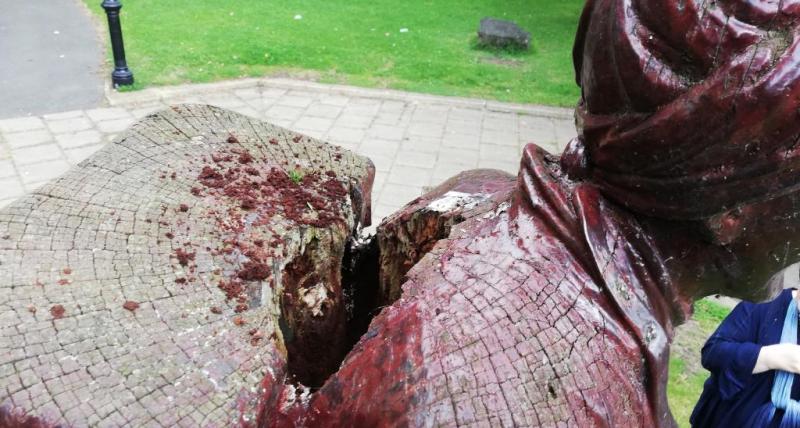 10 December 2019 - 1:16pm
A unique wooden statue which is engrained in the maritime traditions of North Shields is to be restored.   
The Wooden Dolly has become an emblem of the town since it was put on display in the centre of Northumberland Square in 1958.  
It was carved from a single piece of mahogany by the celebrated sculptor and furniture maker, Robert 'Mouseman' Thompson and depicts a fishwife wearing a shawl and carrying a basket on her back, as well as featuring two of the artist's signature concealed mice.
The statue has started to rot after more than six decades outdoors and North Tyneside Council has now launched a project to restore it. 
On Wednesday (December 11) the statue and its sandstone plinth will be lifted and transported to the 'Mouseman' workshop in Kilburn, North Yorkshire, where it was created.
Once restored, the dolly will be returned to Northumberland Square. 
She will eventually be put on display in North Shields Library and a long-term replacement will be commissioned as part of a revitalised Northumberland Square.
John Sparkes, Head of Regeneration and Economic Development at North Tyneside Council said: "The dolly is an important piece of public art in our borough and a unique example of the kind of work that the sculptor, Robert Thompson, was famous for.
"Wooden Dollies are part of a long-standing tradition in North Shields and replacing them when they get old is part of that tradition too.
"As well as having deep connections to the town and its seafaring heritage, this one has become a cherished local landmark and a focal point in the centre of Northumberland Square.
"We're determined to keep the tradition alive and see the dolly retained as the centrepiece of the square, as our ambitious plans for the regeneration of North Shields continue to take shape."
The first of North Shields' wooden dolls was placed at the entrance to Customs House Quay, on Liddell Street, in 1814. 
It became traditional for mariners to shave pieces of wood from the figure as good luck charms before going to sea and a replacement doll was made each time the previous version was defaced beyond recognition.
In 1992, a sixth Wooden Dolly was placed where the first four had been at the entrance to Customs House Quay.
The Northumberland Square version is the fifth version of the statue. 
The restoration is being overseen by Ian Thompson Cartwright, Senior Director at Robert Thompson's Ltd and great-grandson of Robert Thompson.
He said: "What you've got here in North Shields is a unique example of a Mouseman Thompson carving.
"She's carved out of one solid piece and was actually carved by one of our master carvers, Stan Dodds.
"We've got two mice - one in the sleeve and the other round the back on the hem of her dress.
"With it being one solid piece, the water has accumulated between the basket and neck, which is where the rot has started. It has rotted quite deep. There's a hole in the back.
"You can see the growth rings in the wood, so we would assume the timber is probably from a 200-year-old tree. Even the piece of timber would have a few stories to tell, never mind the dolly herself."