You are here
Plastic tubs, pots and trays can now be recycled in North Tyneside
Main content
Plastic tubs, pots and trays can now be recycled in North Tyneside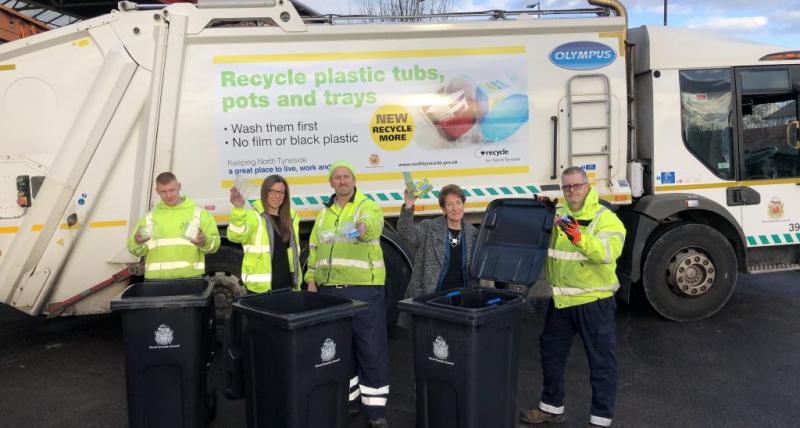 North Tyneside Council is stepping up its war on plastic waste by making it easier for local people to recycle additional materials.
Residents can now recycle a wider range of plastic items than ever before, after the council added plastic tubs, pots and trays to its new recycling contract - items that previously had to be thrown away.  
The local authority has already made a pledge to reduce the number of single-use plastics used in all council-owned buildings and residents are recycling more of their household waste than ever before (43% as of June 2019).  
Residents are being urged to help make the new service a success by removing any film and giving the pots, tubs and trays a quick rinse to get rid of all food residue. This will help to increase the quality of the recyclables and prevent the contamination of other items in recycling bins across the borough.
Black plastic, which cannot be recognised by the optical sorting systems used in most recycling plants, is not accepted as part of the new recycling contract and residents are being asked to place it in their household waste bin as normal.
North Tyneside's Elected Mayor, Norma Redfearn CBE, welcomed the change. 
She said: "When our previous recycling contract came to an end, we saw an opportunity to expand the range of items that people can recycle at home.
"As a listening council, we took the views of local people onboard and I am delighted that we have been able to find a way to recycle more in North Tyneside. 
"Recycling these new plastics is very simple but we do ask people to help us recycle as much as possible by scraping out any food residue and giving the items a quick rinse before placing them in their grey bin."
The launch of the new service follows the council's declaration of a climate emergency in summer 2019, when councillors agreed to fast-track their Low Carbon Plan 2016-2027 to achieve a 50% reduction four years ahead of schedule.
As well as the revised timetable, the council also pledged to make sure North Tyneside is carbon neutral by 2050 in line with national targets.
The expanded range of recyclables is covered by a new contract between North Tyneside Council and North East waste management firm J&B.      
What plastics can I now recycle?
We now accept pots, tubs and trays – rigid containers like yoghurt pots, margarine tubs, fruit punnets etc as well as plastic bottles.
What do I need to do before placing pots, tubs and trays in my bin?
Remove all film lids
Rinse out food residue
Ensure items are dry and
Squash items to fit more in your bin
Please take extra care with trays that have contained raw meat – and rememebr to wash your hands after handling these items.
Does it matter what colour plastic bottles and container I put in my recycling bin?
Yes, at the current time all black plastic items cannot be recycled, please place them in your household waste bin. Black plastic cannot be picked up by the optical equipment used at the Material Recovery Facilities.