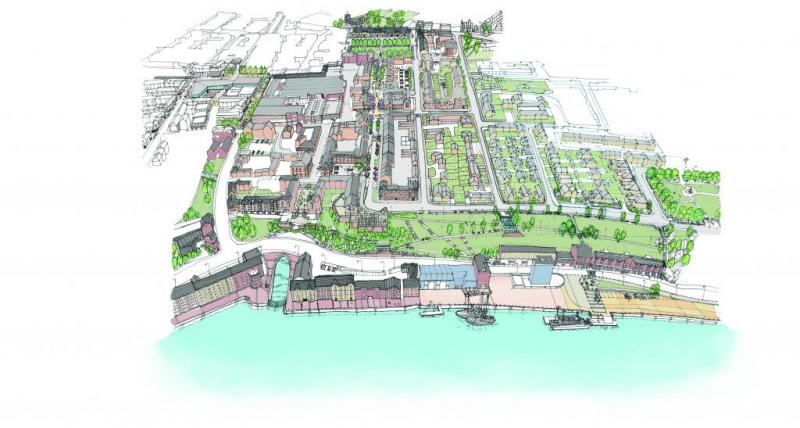 North Tyneside Council's Cabinet last night (Monday 3 August) agreed to consult on a draft masterplan to revitalise North Shields town centre.
The council's 'Ambition for North Shields and the Fish Quay' masterplan, which is a key part of the wider 'Ambition for North Tyneside' strategy, sets out proposals to create a smaller, more vibrant and connected town centre as and when funding becomes available.
The aim is to combine living, working and retail and transform the town centre into a family-friendly destination as well as connecting it to an increasingly vibrant Fish Quay.
This will be supported by improving public transport, walking and cycling connections and enhancing the built environment and public spaces to host events and festivals.
The Ambition for North Tyneside lays out a number of bold projects reflecting the authority's ambition around its 'our people', 'our place' and 'our economy' themes.
It focuses on the needs of every part of the borough and sets out how the council hopes to help shape North Tyneside and make sure it is fit for the future.
At its meeting last night Cabinet agreed that the draft North Shields masterplan will be used to consult with residents, businesses and stakeholders. Further details about the consultation will be announced in the coming weeks.
The plan has been developed since receiving £200,000 from the North of Tyne Combined Authority (NoTCA).
It outlines nine separate projects for the town centre and Fish Quay to be developed.
These include enhancing the appearance of key areas, creating a new transport hub and interchange and town square to host events, markets and performances, improved walking and cycling routes in the town centre, a new cultural quarter and riverside walkway linking the town centre to the Fish Quay.
There are also proposals for high-quality housing at key locations and moving the North Shields ferry landing to Western Quay.
The plans build on the council's recent achievements in North Shields, including the continuing housing developments at Northumberland Square, the proposed redevelopment of Unicorn House, the ongoing restoration of the Wooden Dolly statue, the successful Heritage Action Zone funding bid from Historic England to breathe new life into Howard Street and the work to ensure the long-term economic future of the Fish Quay.
Deputy Mayor Cllr Bruce Pickard said: "There's no doubt that this year has been one of the toughest in recent memory but these are really exciting times North Shields and the Fish Quay and this is some welcome good news for residents and visitors.
"Our ambitious plans to create great places to live, a good choice of high-quality housing and a thriving visitor destination will transform the town centre and build on our recent successes in regenerating Whitley Bay and Wallsend.
"These are still proposals and as a listening council we will be seeking the views of residents, businesses and other interested parties to help shape our thinking before the plan is finalised."
Ahead of the public consultation comments and feedback can be emailed to Regenconsult@northtyneside.gov.uk