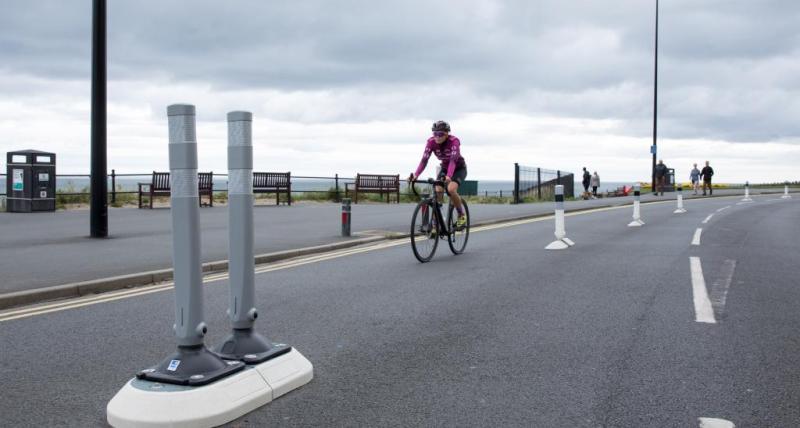 North Tyneside Council has outlined plans for the future of the pop up cycle lane which was brought in over the summer and created a safe space for cyclists and walkers to exercise and enjoy the borough's coastline.
Following the national lockdown in the spring there were unprecedented numbers of people visiting the coastline and cycling and walking, with leisure facilities closed. All local authorities were asked by Government to make quick changes to ensure social distancing could be observed and people could walk or cycle safely, in line with Public Health advice.     
As a result, the Coastal Strip pop-up cycle lane was rapidly introduced in July using Government funding as a cost-effective way to create safe space and reduce conflict between people walking and riding bikes on the seafront between Tynemouth and Whitley Bay during the busy summer months. It was also a way of supporting safe walking and cycling journeys as an alternative while public transport capacity was reduced.
The first round of emergency funding was for temporary projects to support the recovery from the Covid-19 pandemic and support social distancing. A second round is for permanent schemes along commuter routes to provide alternatives to public transport and encourage sustainable travel.
The temporary scheme has proved popular with up to 1,500 daily cycling trips at the peak during the summer. However, the number is now dropping on most days as we head into the colder autumn and winter months.
The council also recognises that the scheme has presented challenges for some coastal operations that require access to the seafront, as well as creating congestion at times in some areas.
Following initial high levels of use during the summer months when the weather was good, data shows a steady decline in usage along the route since then. Current weekend usage is down 64 per cent compared to the opening weekend and average weekly use has dropped by 43 per cent.
It is anticipated that fewer daylight hours and winter weather will lead to a further decline in use on the route, having seen days with usage as low as 150 trips per day. 
As the number of people out walking on the shared footpath has also declined, the pressure on space along the seafront has reduced. The temporary scheme has served its purpose during the summer and will be removed following the October half term (w/c 2 November).
The council is seeking future funding to deliver a revised, permanent coastal cycle lane scheme that provides separate space for cyclists while maintaining a two-way route along the seafront. This scheme would be subject to formal consultation and build on feedback received during the operation of the temporary scheme.
As part of its commitment to active travel and cycling the authority has also placed a bid for phase two of the Emergency Active Travel Fund, which if successful would deliver up to 8.5km of segregated cycle routes throughout the borough.
Meanwhile, other temporary measures aimed at creating more space in town centres and shopping areas introduced at the same time as the cycle lane, including Pedestrian Zones in Park View in Whitley Bay, the Fish Quay and Wallsend town centre and footpath widening in Front Street, Tynemouth, are also set to be removed.
The measures were introduced to ensure residents could travel around the borough safely and feel confident and safe when visiting town centres and busy streets, in turn enabling businesses to reopen safely following the lockdown.
As footfall has, as expected, now declined in the three shopping areas it is now safe to remove them as social distancing can safely be observed without these measures. The schemes will be taken out by the end of this month (October).
The council has been constantly reviewing schemes throughout and a monitoring and evaluation report, including responses and next steps, will be considered by Cabinet at the appropriate time.
Cllr Carl Johnson, cabinet member for Environment and Transport, said: "We introduced these measures at very short notice during one of the most unprecedented and challenging periods in recent times to make sure people could follow public health advice and maintain social distancing, while also supporting businesses to reopen.
"It has been great to see the measures have generally been well received with more young people and families out cycling than ever before and visitors to our retail centres enjoying the benefits of traffic-free environments.
"We have continually reviewed and monitored all the schemes throughout and have listened to what people have told us about the impacts they've had. As a result, we've made changes where needed and continue to do so.
"We know there have been a number of challenges and we have taken these on board. It has been a case of balancing the needs of everyone but ultimately the safety of our residents has been at the forefront of our thinking and our number one priority all along.
"In taking these challenges on board we have drawn up plans which give cyclists a segregated path as well as allowing a two-way traffic route along the seafront. We will be working with partners at Sustrans to explore all funding avenues to build on the success of the scheme."
Cllr Sarah Day, Cycling Champion, said: "It's been amazing to see lots of young families and people new to cycling out on their bikes during the summer on the temporary cycle lane.
"We know cycling has a number of benefits for your personal health and wellbeing as well as the environment.
"The pop up cycle lane tied in really nicely with this year's Summer of Cycling campaign, which had to be virtual this time round due to the Coronavirus restrictions, and I hope many more will take up cycling as an alternative form of travel from now on."