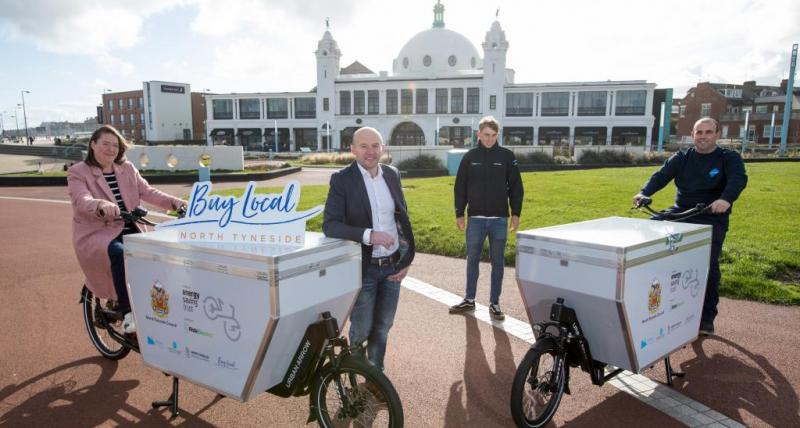 24 October 2020 - 12:00am
North Tyneside Council has secured funding for a fleet of electric Cargo bikes to help improve air quality, promote sustainable travel and support businesses.
The council has been successful in a bid for more than £76,000 from the Department of Transport's e-Cargo Bike Grant Fund – making North Tyneside the only local authority in the region to receive the funding. The remainder of funding for the £84,000 scheme is made up from the council's contribution.
Following the declaration of a Climate Emergency in 2019, the council has committed to supporting businesses in the borough to use cleaner forms of transport, contributing to improved air quality and reducing Carbon emissions.
The e-Cargo bikes will be available to businesses in several retail centres within North Tyneside and can be used by local businesses and large organisations for deliveries.
The council will lend the bikes to voluntary organisations to deliver food and care packages to members of the community who need them.
Operators at Cobalt Business Park will use bikes to carry out site security patrols and environmental management of the bio-diversity park, replacing diesel utility vehicles.
The council will also use the bikes to carry out business operations as well as making them available for use in its Bikeability cycle training for children to raise awareness of them as a viable alternative to cars and vans.
The authority is working with local partners, including Ride Electric who have developed a booking and monitoring system, and Bike for Health who help deliver cycle training to local organisations and schools using the e-Cargo bikes.
The scheme will initially focus on Whitley Bay, and North Shields, where major regeneration proposals are currently being consulted on through the council's Ambition for North Shields draft masterplan.
It will see businesses in the town given access to bikes to help them get around issues with deliveries and accessing their premises and will support the 'Buy Local North Tyneside' initiative.
It all comes after the council's second Summer of Cycling campaign, aimed at encouraging people to get out on two wheels and enjoy the open spaces on offer in the borough.
North Tyneside's Cycling Champion Cllr Sarah Day:
"It is great news that we have secured this funding for a fleet of new e-Cargo bikes – we are leading by example in shifting towards greener and more sustainable forms of transport.
"As a council we are committed to promoting active, sustainable travel and all the benefits it brings. We have ambitious plans to continue to increase participation in cycling and expand the types of bikes being used across the borough.
"We were also the first local authority in the region to adopt a cycling design guide setting out high-quality levels of cycling infrastructure, which only recently is now being rolled out throughout the country.
"These bikes will give local businesses and organisations the opportunity to recruit younger staff who may not be able to drive or have their own vehicles while also promoting health, active lifestyles and contributing to better air quality."
Cllr Carl Johnson, cabinet member for Environment and Transport:
"In North Tyneside we are continuing to make really good progress in dealing with our Climate Emergency and our commitment to preserving the environment. Therefore this is really positive step towards reducing carbon emissions in the borough and encouraging zero-emissions deliveries."
Stuart Fearn, from the team who recently launched www.buylocalnorthtyneside.co.uk : 
"This is a fabulous opportunity for high street businesses across North Tyneside to look at innovative ways of pivoting their businesses to provide a delivery service. It is clear that there is an ever-growing need for business to widen distribution models and a desire from shoppers to use and support local independent businesses."
Jim Morrison, Secretary, Whitley Bay Chamber of Trade:
"We see the launch of the e-Cargo bike scheme as a great way to help local businesses extend their offering to local consumers. During these uncertain times, local businesses have tried introducing alternative ways to reach their audience. A green delivery option provided by the use of these bikes will help them to continue trading and also to reach out to their customers who may be reluctant to venture out to the high street."
Lynn Cramman, Development Manager, Cobalt Park:
"Our team of on-site wardens patrol and maintain the park over a vast area connected by bridleways not always easily accessible by our utility vehicles so we are delighted to have this opportunity to access a greener alternative as part of our management function."
The Buy Local team are asking business and residents whether they'd welcome a new delivery service using the electric cargo bikes. Any local business or resident interested in this service can email talk@buylocalnorthtyneside.co.uk
The e-Cargo Bike Grant Fund scheme is funded by the Department for Transport and delivered by Energy Saving Trust.