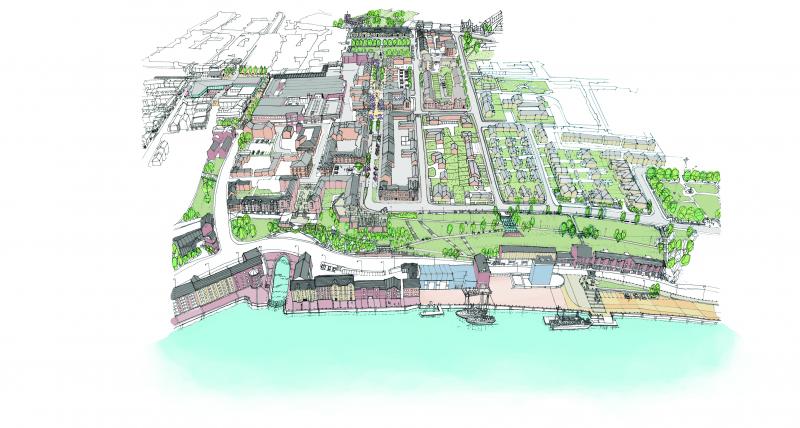 Ambitious plans to transform North Shields and the Fish Quay will go before Cabinet members next week (Monday 25 January) following a public consultation.
The Ambition for North Shields master plan, aimed at transforming the town centre and riverside into an environment where people choose to live, work and spend their leisure time, went out to consultation in draft form during the summer and autumn of last year.
It outlines eight separate projects for the town centre and Fish Quay. These include enhancing the appearance of key areas, creating a new transport hub and interchange and town square to host events, markets and performances, improved walking and cycling routes in the town centre, a new cultural quarter based around a traffic calmed Howard Street and riverside walkway linking the town centre to the Fish Quay.
There are also proposals for high-quality housing at key locations and moving the North Shields ferry landing to Western Quay.
The plans, which have been developed following a £200,000 grant from the North of Tyne Combined Authority, build on the council's recent achievements in North Shields.
These include the housing developments at Northumberland Square, the acquisition and proposed redevelopment of Unicorn House, the restoration of the Wooden Dolly statue, the successful High Street Heritage Action Zone funding bid from Historic England to breathe new life into Howard Street and Northumberland Square, and the ongoing work with the Port of Tyne and Fish Quay Development Company to ensure the long-term economic future of the Fish Quay.
The overall aim is to create a smaller, more vibrant and connected town centre which combines living, working and retail and is a destination in its own right, while connected to an increasingly vibrant Fish Quay. These objectives will be underpinned by better transport flows, new infrastructure and a higher quality built environment.
As a listening council, residents, businesses, partners and other interested parties were asked their views on the proposals through a variety of platforms to take into consideration when producing the final version of the plan.
Households and businesses in the master plan area were sent a brochure about the plans, a digital engagement tool was created, businesses were regularly updated and consulted with, and comments were received via social media.
A report to Cabinet shows that overall feedback from the consultation was broadly positive and supportive of the proposals with a general agreement that North Shields needs some revitalisation to make the area a better place to live, work and visit.
Proposals to improve access between the Fish Quay and town centre, plans to create a transport hub, proposed new housing on the Unicorn House site and improved town centre gateways were all particularly welcomed and are intended to ensure the town is well-placed to attract visitors and compliment private sector investment. The majority of businesses in the town were happy to support the plans, the report adds.
The final master plan has now been refined and no longer includes a proposal to demolish a small number of buildings in Railway Terrace to make way for a new town square. Instead, Co-op have announced their intention to close their store later this year. 
The council is aiming to purchase and demolish the Co-op store on Bedford Street and two smaller retail units facing Railway Terrace, which have recently been placed for sale by the company. This revised approach will enable the delivery of the transport interchange and a new town square and means the Railway Terrace shops would remain as they are while the same outcomes would be delivered quicker and cheaper.
All other proposals included in the master plan remain unchanged but as individual projects are refined and finalised there may be some minor changes.
Cllr Bruce Pickard, Deputy Mayor and cabinet member for Economic Development, said: "We're an ambitious council and we intend to transform North Shields into somewhere people want to live, work and visit.
"This is a really exciting time for the whole of North Tyneside and we have already achieved a great deal in recent times in North Shields and the Fish Quay and the next step is to press ahead with the bold proposals contained within the master plan.
"As a listening council we have fully engaged and consulted with residents, businesses and other interested parties to help shape our thinking as have refined our plans to produce a final master plan which sets out a bright future for the town while providing value for money."
Find out more about the Ambition for North Shields master plan