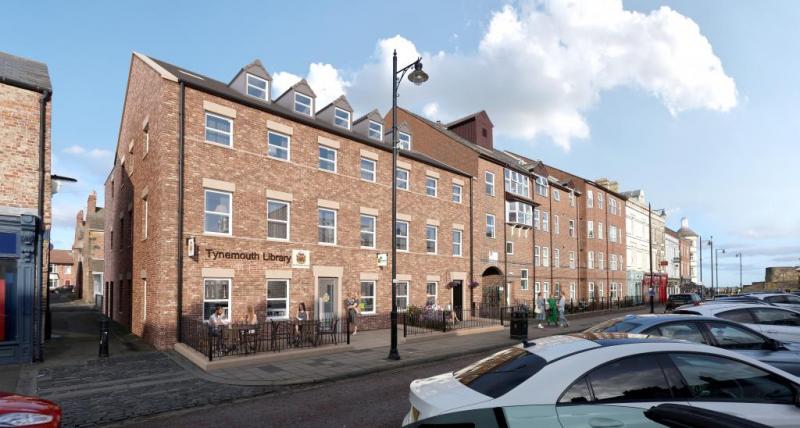 12 February 2021 - 10:26am
Proposals to demolish and reconstruct Tynemouth Library as a modern community hub are set to take a step forward.  
The building, at 36 Front Street, served the community for almost 70 years but the ageing building was deemed no longer fit for purpose and it closed in February 2020.
Aurora Properties Ltd, on behalf of North Tyneside Council, is now seeking permission to demolish and redevelop the site with a modern facility that combines a new library with financial services, and six high-quality residential apartments.
The proposal also includes the demolition of a vacant shop unit next door and an electricity substation, with a new substation to be constructed on site to meet modern requirements.
The council will continue to operate the library, alongside a community branch of Newcastle Building Society, and the building will be equipped with a Changing Places toilet to meet the needs of people with profound learning or physical disabilities.
The redevelopment is part of the council's Ambition for North Tyneside programme, which sets out how the council will regenerate all parts of the borough and make it fit for the future.
Councillor Bruce Pickard, North Tyneside's Deputy Mayor and Cabinet Member for Regeneration, said: "The library has been a good servant to the people of Tynemouth for many years and we know how much our residents value its convenience and accessibility.
"But the building has really started to show its age in recent years and this project will see a modern facility built in its place, offering local people a wider range of services in much more comfortable surroundings. 
"It will be lighter, brighter and more spacious, with improved accessibility for people with learning or physical disabilities. It will have an improved visual impact on Front Street and will offer an expanded range of services through our partnership with Newcastle Building Society.  
"I am very excited to see the redevelopment being brought forward as part of the council's commitment to invest in all parts of the borough to keep North Tyneside a great place to live, work, and visit.  
A consultation exercise is now underway asking for local people and businesses to have their say on the plans.
Councillor Sarah Day, Cabinet Member for Culture, Sport and Leisure at North Tyneside Council, added: "I am very excited to see this project continue to take shape. I know what an important asset the library is for the local community and we would welcome people's comments on the plans for the improved facility, with the building society sharing the new space.
"Postcards are also going out to people's homes and local businesses explaining how they can take part in the consultation."
Andrew Haigh, chief executive at Newcastle Building Society, said: "We're pleased to see the redevelopment plans for the library continue to move forward. We believe high streets play a vital role in the heart of local communities and from our experience with our existing community partnership branches in Wooler, Hawes and Yarm, the proposal for Tynemouth will deliver a vibrant new community space for residents.
"The plans are an important part of our commitment to provide face to face financial services in the North East and we're looking forward to working in partnership to realise the ambition for this latest innovative addition to our branch network."
Residents can view and have their say on the plans here.