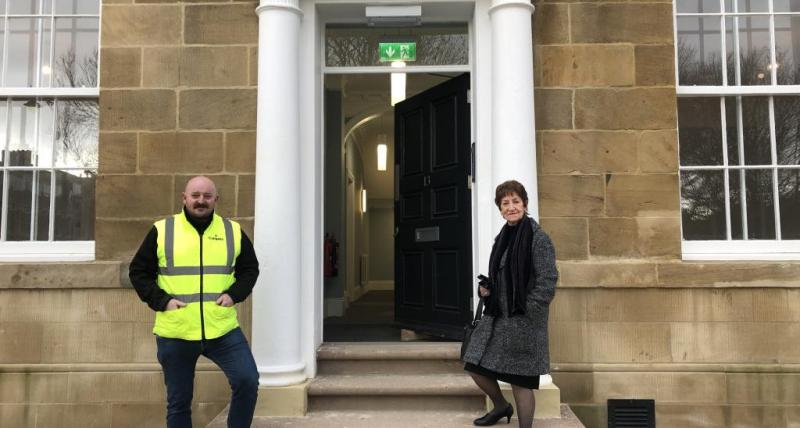 25 February 2021 - 3:51pm
A landmark Georgian terrace has been transformed from a 'derelict shell' into a stunning residential development in North Shields.
The Grade II listed building, at Northumberland Square, has been converted into 10 apartments and two townhouses as part of North Tyneside Council's Ambition for North Shields masterplan.
A further 16 homes with courtyard parking have been created at Northumberland Close, on a vacant plot of land facing Albion Road.
The redevelopment was delivered by Aurora Properties, acting on behalf of North Tyneside Council, with construction work carried out by Compass Developments Ltd.
North Tyneside's Elected Mayor, Norma Redfearn CBE, said the project has given an immediate lift to the town centre, and sets the scene for further ambitious projects still to come.
"I'm overjoyed to see the work complete," she said
"The quality is superb and the views into Northumberland Square are something special too.
"These buildings were in a dreadful condition. They were left to ruin and it's wonderful to see them restored to their former glory. I have nothing but praise for everyone involved in the restoration.
"It's been a wonderful venture and I hope it proves to everyone that exciting things are starting to happen here in North Shields."
The properties overlook the Northumberland Square conservation area, which is considered the nearest thing Tyneside has to the celebrated Georgian squares of London, Bath, Edinburgh, and Dublin. 
Graham Anderson, Chairman of Compass Developments, said: "The building was a derelict shell when we first gained access, so I'm very proud of what we have achieved and the way the unique character of the buildings has been preserved.
"It's been fantastic working with Aurora Properties and supporting the regeneration of North Shields town centre.
"We are also very aware of the importance of 'local spend' and we engaged early on with the business community to ensure that building materials and subcontractors could be procured locally to bring added benefit for all the community.
"Our ongoing relationship with a local charity also resulted in us adding another young person to our apprenticeship scheme, which we are particularly proud of, and is affording others a valuable work experience within the business."
The project is one of the key elements of a plan to revitalise the town centre and Fish Quay in North Shields, and of the wider Ambition for North Tyneside strategy focussing on the whole of the borough.
See more information about the Ambition for North Shields master plan.