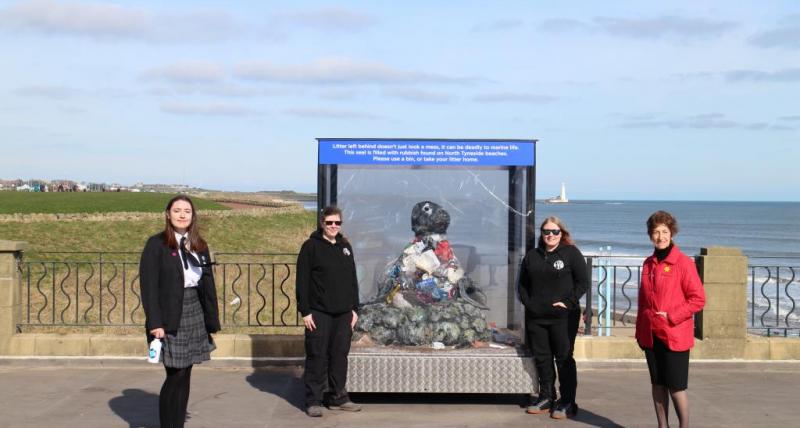 A life-size seal sculpture made from litter collected from North Tyneside's coastline has been installed in Whitley Bay, which sees the launch of a new anti-plastics campaign. 
Plastic bottles, straws, empty food cartons, face coverings and plastic bags are just some of the items that make up the 6ft creation, which has been installed by North Tyneside Council.
All-year round, the council, as well as community-spirited residents and local businesses, clear thousands of tonnes of rubbish, including single-use plastics, left on North Tyneside's beaches.
In an effort to raise awareness of the issue and help people visualise the impact their actions have on marine life and the environment, the seal sculpture has been installed outside the Dome before it then tours the borough's coastline.
Its installation also launches a single-use plastics campaign, which will see coastal water drinking fountains installed, the involvement of businesses and young people, and social media hints and tips, to encourage residents to minimise their use.
Speaking about the project, North Tyneside Elected Mayor, Norma Redfearn CBE said: "Making sure we have a clean, safe, attractive and sustainable borough is really important to the council and many of our residents and businesses.
"That's why, back in 2019, we declared a climate emergency in the borough, to ensure we do everything we can to reduce our carbon footprint – and this campaign is another feature of the many ongoing projects for a more sustainable North Tyneside.
"We want to ensure our beautiful borough can be enjoyed and protected for generations to come, but residents and businesses hold the key to our success, and I would really encourage everyone to take action. We can all make small changes, such as reusing bottles, to reduce single-use plastics and our impact on the environment."
Cllr Carl Johnson, cabinet member for Environment and Transport, added: "Single-use plastics create avoidable waste and the detrimental impact and damage to the environment and wildlife is huge.
"The sculpture reflects the unfortunate reality of litter left on our coastline, and like our residents, we are tired of the mess left behind. We hope its installation will open many conversations amongst visitors and residents alike, and lead to a cleaner and safer environment, free of single-use plastics, that we can all enjoy."
The campaign has the backing of North Tyneside's Young Mayor, Suzie Mckenzie, aged 15, and the Youth Council.
Suzie said: "Reducing our impact on the environment is something that the Youth Council and I are really passionate about – as are loads of young people. We're really excited about being part of the campaign and looking forward to sharing our ideas and showcasing all the work we're doing."
The sculpture was commissioned by North Tyneside Council and created by local artists Beth Huttly and Amy Welch.
Beth said: "Environmental awareness is such an important topic to raise, and one which we are very passionate about. We hope the seal will draw attention to this issue."
It sits on a bed of sand inside a perspex cube, made by Killingworth-based Harper Signs.
It will tour the North Tyneside coastline, moving to one of six locations every two weeks, starting outside the Spanish City Dome, to raise as much awareness as possible.
The news comes as North Tyneside Council continues to make big inroads in reducing its carbon footprint – which it aims to cut by 50 percent by 2023.
Building on previous success, the council is delivering a half a million-pound project to install LED street lighting and has allocated over £4m to convert the rest of its streetlights to LED by 2023. It has also installed low carbon heating in four of its most energy-intensive buildings and installed low carbon heating in homes across the Borough. Its depot in Killingworth is also being redesigned to be an exemplar in energy efficiency and generation.   
An electric fleet of council vehicles has also been introduced, with aspirations to replace all its vehicles with electric ones in the future.