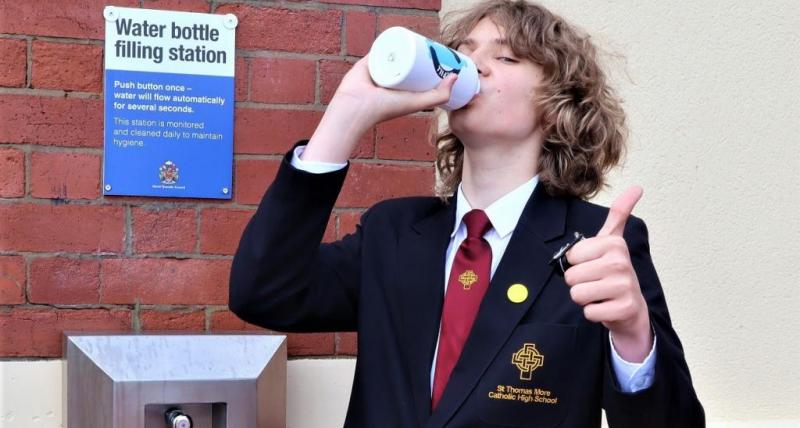 The war against plastics has been stepped up in North Tyneside with seven water fountains installed – and more are on the way.
Since North Tyneside Council declared a climate emergency back in 2019, a range of measures have been put in place to reduce the borough's carbon footprint.
Most recently, a single-use plastics campaign has seen a 6ft sculpture of a seal made from litter installed along the coast, raising awareness of people's impact on the environment.
And now, as part of the campaign, visitors will be able to fill up their water bottles at one of the seven water fountains now dotted along the coast – with a further 10 to be installed in other areas of the borough in the coming months.
North Tyneside Elected Mayor, Norma Redfearn CBE: "Ensuring North Tyneside is a sustainable borough, free of single-use plastics, is one of my top priorities and I know how important this is to many of our residents and businesses. 
"The fountains are a great way to help the public make small changes which will have a big environmental impact, as well as saving them money and helping them stay hydrated.
"This is the latest initiative in our efforts to tackle plastic pollution, including the installation of a litter sculpture, the involvement of businesses and young people and regular hints and tips provided to residents to help minimise their use."
Deputy Mayor, Cllr Carl Johnson added: "Along with community-spirted residents and businesses, our teams work all year round to clean litter, including many plastic bottles, from our coastline. Not only unsightly, this can have a huge detrimental effect on the environment and marine life.
"By installing the water fountains, we hope people will refill reusable water bottles, rather than buying bottles of water which are often only used once.
"I am delighted we have installed these water fountains and I look forward to seeing more in other areas of the borough in the coming months."
The other locations, which include Richardson Dees Park, Rising Sun Country Park, Weetslade Skate Park, Churchill Playing Fields and more, were chosen with help from the council's Young Environment Committee.
One of the members of the committee, Oscar Daniel, aged 17, said: "On behalf of myself and the North Tyneside Youth Council, I am very pleased with the council's decision to fund the new water fountains.
"I hope the public will make full use of the fountains, particularly in the upcoming summer. It is important to stay hydrated, for which the fountains will be helpful, but the advantage I am most pleased with is the environmental benefits.
"I encourage the public to take a water bottle out with them when visiting the coast to cut down on the obscene amounts of single use plastics which pollute our oceans."
The news comes as North Tyneside Council continues to make big inroads in reducing its carbon footprint – which it aims to cut by 50 percent by 2023.
It has included installing low carbon heating in four of its most energy-intensive buildings and installed low carbon heating in homes across the borough. Its depot in Killingworth is also being redesigned to be an exemplar in energy efficiency and generation.   
A fleet of council electric vehicles has also been introduced, with aspirations to replace all its vehicles with electric ones in the future.