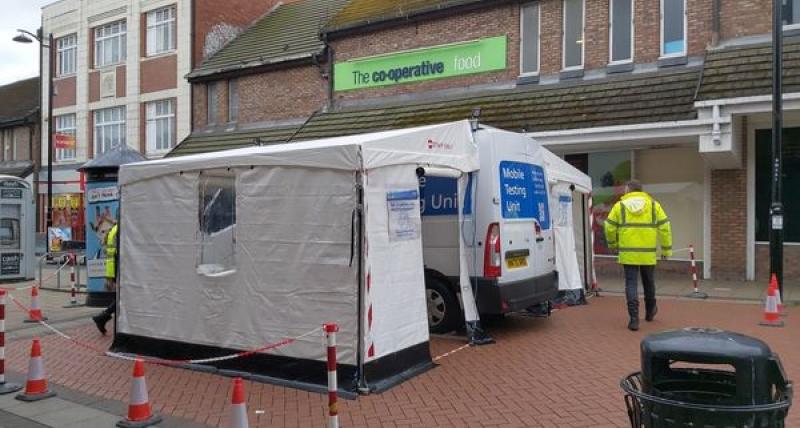 Mobile test units will be in place in North Tyneside until next week and extra vaccination services will continue to be available as the Borough continues to respond to positive cases of the COVID-19 variant first identified in India.
To help to minimise the spread of the virus in North Tyneside, the Government announced on May 19 that surge testing would begin and more vaccinations would be available for everyone who is eligible.
The current infection rate for North Tyneside is 39 per 100,000, which is down from a peak of 55 earlier in the week.
So far, 58 cases of the variant have been discovered in North Tyneside, with all individuals self-isolating and their close contacts traced.
Public health officials at North Tyneside Council will continue to monitor the infection rate and work with Public Health England and Government on the next stage of their local plan.
The council and partners quickly mobilised to put mobile PCR test units in place at three locations in the Borough. The sites in North Shields and Wallsend town centres and in Shiremoor, next to Aldi and Costa, will remain open from 10am until 4pm until Tuesday, 2 June. So far, 2,492 tests have been carried out.
On Wednesday and Thursday this week North Tyneside Council and Tyne and Wear Fire Service worked together to deliver 1,282 PCR test kits to properties in parts of North Shields, Wallsend and Whitley Bay.
This additional testing is being carried out in order to gather more information about the virus and effectively monitor community transmission.
After the mobile test units close next week, NHS Test and Trace and North Tyneside Council will advise all close contacts of confirmed cases to get a PCR test at one of the existing sites by booking online or calling 119.
In addition, everyone is encouraged to continue taking lateral flow tests twice a week.
Further localised vaccination services were also put in place to support North Tyneside residents including mobile and walk in services for people who have not yet had their first vaccine. Vaccinations have been going very well. It is hoped that by the end of Saturday over 3,000 North Tyneside Residents will have been vaccinated by the mobile units alone.  
People who are aged 40 and over and have not yet had their first vaccine, and who live or work in North Tyneside, are being encouraged to either book an appointment via the NHS National Booking Service 119 or online, to use walk-in services, or to attend mobile services.
People aged under 40 are not able to use the mobile service so should book their appointment via the National Booking Service or use walk-in services. This is so they can attend a vaccination service which has vaccine appropriate for their age group.
Wendy Burke, North Tyneside Director of Public Health, said: "Working with our partners we have put in place a range of measures to supress the virus.
"We have been so proud of the response of the people of North Tyneside who have stepped forward in their thousands to get tested and take up vaccine services.
"Our public health advice to everyone remains the same: the best way to stop the spread of the virus is to follow the guidelines - remember hands, face, space and fresh air, socialise outdoors, work from home if you can, get vaccinated and take up the offer of regular testing."