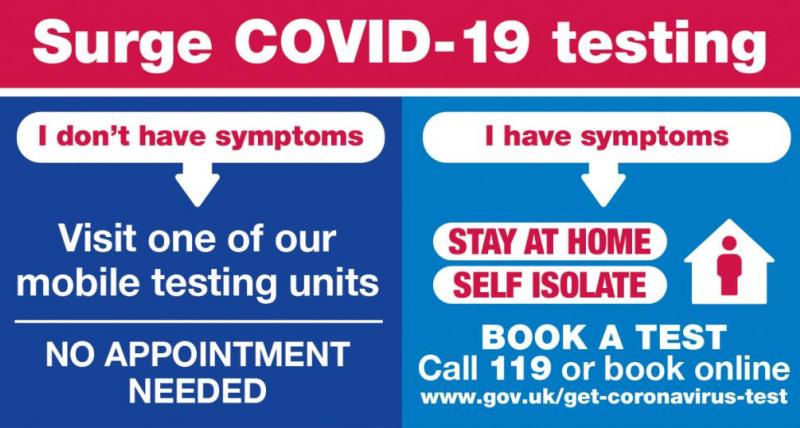 Extra testing and vaccination services will remain in place in North Tyneside this week as the Borough continues to respond to positive cases of the COVID-19 variant first identified in India.
In recent days confirmed cases have risen with the current infection rate at 63 per 100,000 people. Week on week this is up from a seven day average of 56 per 100,000.
Confirmed cases of the variant now stands at 69, with all individuals self-isolating and their close contacts traced.
The majority of cases are among teenagers and the Council are reminding the public to remain cautious, particularly when mixing indoors.
Mobile PCR test units will remain in place in North Shields and Wallsend town centres and in Shiremoor, next to Aldi and Costa. The sites are open from 10am-4pm and for those without symptoms to get tested.
Wendy Burke, North Tyneside Director of Public Health, said: "Case numbers overall have risen in recent days and we are seeing that the majority of cases are among teenagers.
"Crucially in those over 50, where the vast majority of people have had been vaccinated, we are not seeing a rise.
"Our advice to everyone remains the same: the best way to stop the spread of the virus is to follow the guidelines - remember hands, face, space and fresh air, socialise outdoors, work from home if you can, get vaccinated and take up the offer of regular testing."
"It's particularly important that we are all cautious when mixing indoors where the various can spread more easily. Socialising outdoors remains the safest option."
To help to minimise the spread of the virus in North Tyneside, the Government announced on May 19 that surge testing would begin and more vaccinations would be available for everyone who is eligible.
So far, thousands of additional tests and vaccinations have taken place.
Anyone aged over 30 can now book in for their first vaccine using the NHS National Booking Service online or by calling119 between 7am and 11pm.
Appointments are added regularly, so please keep checking if there's not an appointment straight away.
In addition to this, there are three walk-in services for people who live or work in North Tyneside where no appointment is necessary. These are for first vaccinations for anyone aged over 30 and you will be offered a vaccine that is appropriate for your age group.
These walk-in clinics run between 11am to 1pm and 5pm to 7pm each day
The Cedarwood Trust, Pharmacy2u, The Avenue, Avon Avenue, North Shields NE29 7QT
The Village Hotel, Pharmacy2u, 10 The Silverlink North - NE27 0BY
Collingwood Centre, Pharmacy2U - Unit 13-14 Collingwood Centre, Preston North Road, Tynemouth - NE29 9QR
People in the highest priority groups (cohorts 1-9), are continuing to be contacted so they can receive their second dose earlier – at around 8 weeks. This means people at greater risk of getting seriously ill due to coronavirus can get maximum protection sooner. The NHS will contact people directly so please wait to be contacted if you think you are in this group.
Dr Richard Scott, Chair of NHS North Tyneside CCG, said: "Our local teams have worked very hard to offer a vaccine to anyone over 30. If you've not come forward to have your vaccine, the time to come forward is now.
"If you already have an appointment over the coming weeks, whether for your first or second dose, this remains in place and it's really important that you attend as planned."