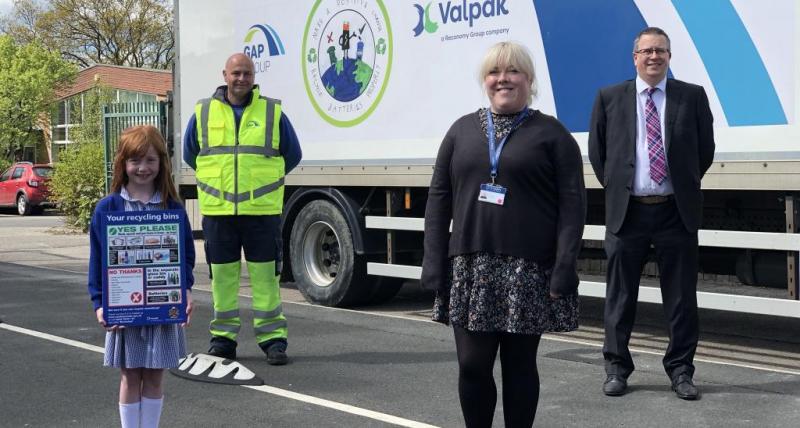 A creative youngster has seen her artwork displayed on the side of an 18-tonne lorry after winning a competition set by North Tyneside Council.
Eight-year-old Anna McAlindon from St Mary's Primary School, Forest Hall, created the poster to support a campaign by the council and their household Waste Electric and Electronic Equipment contractors Valpak and GAP, to encourage people to recycle batteries responsibly.
Batteries are a potential fire hazard if disposed of incorrectly and the council no longer accepts them in their recycling or household waste collections. Proper battery disposal points can be found in many supermarkets and at the Household Waste Recycling Centre in North Shields. 
Anna's design topped hundreds of entries from across the borough and is now emblazoned on the side of the GAP logistics lorry. It features a battery character with arms and a smiling face standing on top of the world, with a bin on either side, and a slogan reading 'make a positive change, recycle batteries properly'.
Asked how she felt to see her artwork transferred on to the van, Anna said: "Really excited. It's really important that people make sure they put their batteries in the right place. I practice my drawing a lot at home. My dad said he was really impressed." 
Recent campaigns have already seen a huge reduction in the number of batteries disposed of in household waste and recycling bins and the council wants to keep driving the message home.
Councillor Sandra Graham, Cabinet Member for the Environment, said: "Congratulations to Anna on a really striking piece of art with a really important message behind it. She should feel very proud to see her design reproduced on such a large canvas. It will draw attention to some of the hidden dangers and give a further boost to our campaigns which are already driving down the number of used batteries finding their way into household waste and recycling bins."
Nigel Tomlinson, commercial manager at Valpak, said: "Valpak is proud to support the battery poster competition to promote the benefits of recycling used batteries. Anna's poster is excellent and will help to raise awareness in the region."