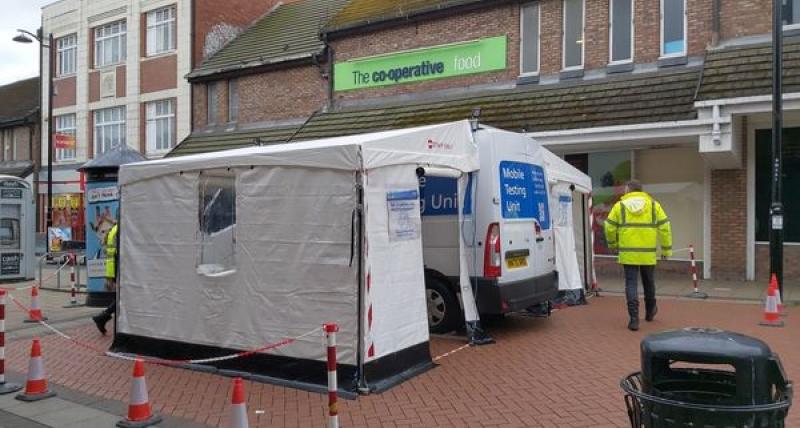 North Tyneside's additional COVID-19 mobile testing services will come to an end this weekend as they move to areas of the country with greater need.
The additional mobile testing units were put in place on May 22, following a rise in coronavirus cases and the detection of the Delta variant in the borough, but will finish on Sunday (June 13).
The Delta variant is becoming the more dominant variant across most of the UK and the mobile testing units are needed for areas with faster rising case rates.
Over 4,000 tests have been carried out at the mobile testing sites and during targeted door-to-door testing in certain areas, with around one in every hundred people testing positive, and thousands of extra vaccinations.
The total confirmed cases of the Delta variant stands at 79 and the current infection rate in the borough is 74 per 100,000 people.
There are still lots of ways to get tested – with plenty of availability at the existing PCR sites in the borough at The Parks Sports Centre, North Shields, and Coronation Street car park, Wallsend, for those with symptoms. Residents can also access lateral flow tests in a variety of ways too.
Ahead of the removal of the mobile sites, the public is being encouraged to visit them and take a test, helping to minimise the spread of the virus in the borough.
The sites are located in North Shields and Wallsend town centres and in Shiremoor, next to Aldi and Costa, and are open from 10am-4pm for those without symptoms to get tested.
North Tyneside Director of Public Health, Wendy Burke said: "We'd like to thank everyone who has taken a test or accessed the additional vaccination services in recent weeks – and to Tyne and Wear Fire and Rescue Service, Northumbria Police and all the volunteers who have helped make this happen.
"Every test taken, positive case found, and vaccine given helps to reduce the chances of onward transmission and keep North Tyneside safe.
"However, we are not out of the woods yet and we continue to monitor the situation closely and will take appropriate measures if and as required.
"Everyone should continue to follow Government and Public Health guidance - please remember hands, face, space and fresh air; socialise outdoors; work from home if you can; get vaccinated; and take up the offer of regular testing.
"We'd really encourage everyone to make use of the additional testing before Sunday evening, ahead of the mobile testing units being deployed to other areas of the country with higher need."
The existing PCR testing sites at The Parks Sports Centre, North Shields, and Coronation Street car park, Wallsend, remain in place for anyone with symptoms and tests can be booked online at www.gov.uk/coronavirus or by calling 119.
All residents without symptoms are encouraged to continue to take twice-weekly lateral flow tests, which can be accessed in several ways, including from over 40 pharmacies, in schools, workplaces and through the post. Find out more on the council's website here.  
Everyone who is eligible but has not yet had their first vaccine continues to be urged to book as soon as they can. Thousands of appointments are available in community locations across North Tyneside. New eligible age groups are also being announced regularly.
There are different types of vaccination services available in North Tyneside. You do not need an appointment to attend walk-in services, however if you have your NHS number that would be helpful. You can find this on any letter or document you have received from the NHS, including prescriptions, test results and hospital referral letters or via the NHS App.
Please only attend walk-in services for a first dose. If you have already had your first dose, please keep your existing second dose appointment and attend as planned.
Bookable vaccination services
Anyone in the latest eligible groups
First and second vaccinations available
16 locations across North Tyneside, various times, booked in advance via the NHS National Booking Service or call 119 between 7am and 11pm.
Walk-in vaccination services
Walk in – no appointment needed
Anyone in the latest eligible groups
Live or work in North Tyneside
First vaccinations only – no second doses available
All run from 11am to 1pm and 5pm to 7pm every day:
The Cedarwood Trust, Pharmacy2U, The Avenue, Avon Avenue, North Shields, NE29 7QT
The Village Hotel, Pharmacy2U, 10 The Silverlink North, NE27 0BY
Collingwood Centre, Pharmacy2U, Unit 13-14 Collingwood Centre, Preston North Road, Tynemouth, NE29 9QR