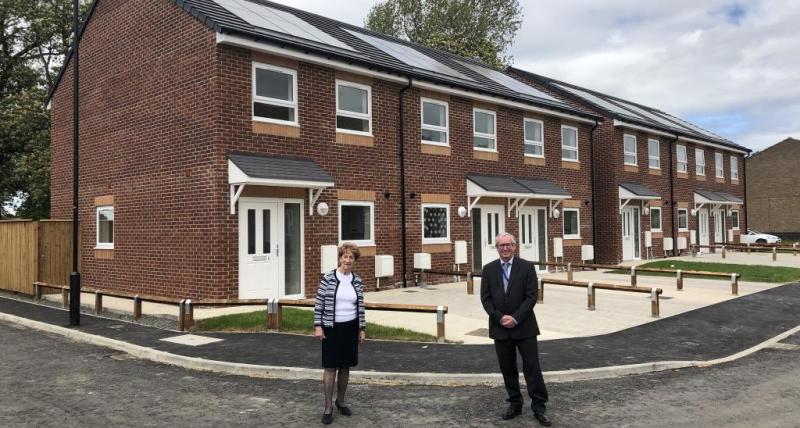 North Tyneside Council has handed over the keys to a new development of affordable homes in Battle Hill, Wallsend.
The council has built nine two-bedroom homes on the former Bawtry Court sheltered accommodation site, on Broomfield Avenue, and families have already moved in.
The development is part of a commitment by North Tyneside's Elected Mayor, Norma Redfearn CBE, to drive forward with plans to create thousands more affordable homes in the borough.
The council and its partners have delivered more than 1,650 affordable homes in recent years and have ambitious plans to build on this achievement in future years. This ambition will see the council invest around £50m to create an additional 350 council homes across the area.
As well as giving the area a visual lift, the Battle Hill scheme embraces modern construction methods to ensure energy efficient homes and has rooftop solar panels that will generate clean renewable energy, saving tenants money and contributing towards the council's climate emergency programme of work to make the borough carbon neutral.
The council has also planted new trees in the area to further enhance the development's green credentials.  
Elected Mayor Norma Redfearn CBE gave the new homes her seal of approval.
She said: "We have lots of families in desperate need of a roof over their heads and one of the key priorities for North Tyneside Council is to provide enough good quality homes for local people to rent, at a price they can afford.
"We have already made excellent progress towards our affordable housing target and I am delighted to see work complete on another fantastic development on a plot of land that was going to waste.
"The quality of these homes is outstanding, the finish is fantastic, and they are very inviting. I wish our new tenants many years of happiness here." 
Steve Cox, Cabinet Member for Housing, added: "The new homes are built to modern environmental standards which is something that we take very seriously, and we aim to deliver on all of our developments, particularly the solar panels we've introduced. These will help make the homes affordable to live in and beneficial for the residents, while also helping to reduce the carbon footprint of the borough. These homes are greatly needed, and we are delighted to be able to deliver them."
Other affordable housing projects taking shape in Wallsend include the revival of abandoned flats on Charlotte Street to provide seven family homes.
A further twelve affordable homes are being created on the site of the former Cedars care home on Morwick Road, North Shields.
The development will be made up of eight two-bedroom homes and four three-bedroom homes, including one that will be fully wheelchair accessible.