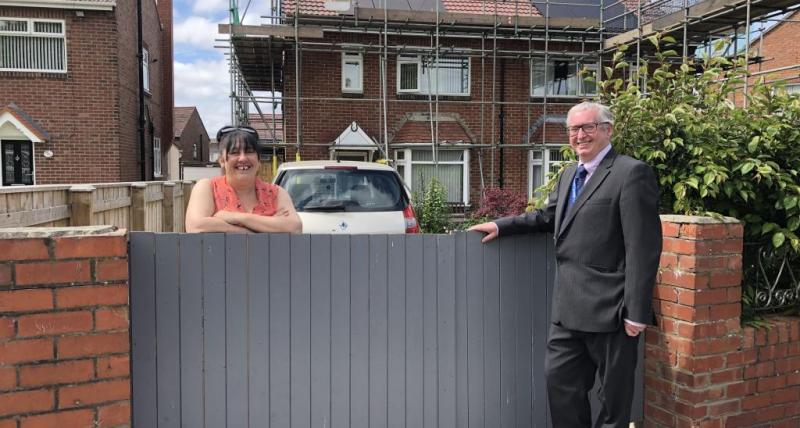 Residents of Dudley are among the first in North Tyneside to benefit from a scheme aimed at improving the energy-efficiency of people's homes and enabling residents to generate their own renewable energy from solar panels.
Around 400 homes in North Tyneside, a mix of privately-owned and council-owned properties, are being fitted with free energy-saving and energy-generating measures to help reduce people's energy bills and cut carbon emissions.
North Tyneside Council committed £500,000 towards the project and then made a successful bid to the Government's Green Homes Grant scheme to bring the investment up to £3.2m.
The council will deliver the improvements, working with E.ON, including a mixture of external wall insulation, solar panels, and air source heat pumps fitted to people's homes.
The scheme is another step forward in the council's ambitious drive to make the borough carbon neutral following the declaration of a climate emergency in July 2019.
Nicola Christie has lived on Love Avenue, Dudley, for more than 20 years and she was delighted to have solar panels fitted at the same time as a new roof as part of the council's Decent Homes programme.
The 45-year-old, who works in a care home, said: "I'm over the moon, it's great for the environment and I'm saving money as well. I heard about the scheme a couple of months ago and made enquiries. We were talking about the environment when I was at school, solar power and tidal power, and it's clear that something has to be done now.
"These panels are better than the older ones, more modern, and the installation from start to finish was quick and not disruptive. The lads who installed them were lovely and I appreciate the council for putting them up."
To qualify for the upgrade, homeowners or council tenants need to meet certain Government criteria such as living in a low energy-efficient property with a rating of D, E, F or G.
Councillor Steve Cox, Cabinet Member for Housing, said: "By upgrading our housing stock with renewable technology, the council can make people's homes much more comfortable and affordable to run, while also making a huge contribution to our carbon reduction efforts as a borough.
"Nicola's is one of the first homes to be done as part of this package and I can see how happy she is with both the environmental and cost-saving benefits of the solar panels. I think this is an excellent project and a win-win scenario for our residents."
The council has already reduced its own carbon footprint by almost half through schemes such as the replacement of almost 10,000 streetlamps with energy-efficient LEDs and improving the efficiency of its buildings such as leisure centres. Newly published data also shows that the carbon footprint of the Borough was down in 2019 by 41% against the 2005 baseline.
Councillor Sandra Graham, Cabinet Member for the Environment, said: "The council is clear in our commitment to tackling the climate emergency and we have already reduced both our organisation's and the borough's carbon footprints through a range of energy efficiency and renewable energy schemes. We have also recently expanded our recycling service to include plastic pots, tubs and trays and continue to work to reduce single use plastic, including recently installing a number of water refill stations at the coast and we will be installing more across the borough this summer. 
"We have already made great strides towards reducing our carbon footprint and there is a lot of work still to be done but every home that we equip with carbon reducing technology is a step in the right direction.
"We are putting climate change at the heart of everything we do, whether that's making big improvements to our cycle network or removing single-use plastics from council-owned buildings."
The council is working with E.ON to deliver the scheme, but people do not need to be an existing E.ON energy customer to benefit.
Nigel Dewbery, Director of Residential Solutions at E.ON, said: "Improving the energy efficiency of homes across the UK is key to meeting the nation's net-zero targets, and can dramatically improve people's living conditions, by helping to increase their comfort and reduce their energy bills.
"We're delighted to be bringing these benefits to households across Dudley as we continue to work with North Tyneside Council to install energy efficiency measures, such as insulation, solar panels or air source heat pumps, in the homes of eligible residents."
Residents can apply online by visiting www.eonenergy.com/home-heating/green-homes-grant or by emailing GreenHomesGrant@eonenergy.com with their contact details, and a member of E.ON's customer services team will be in touch.
Alternatively, residents can call the E.ON Green Homes Grant team on 0333 202 4820. Lines are open Monday to Friday, 9am-5pm.