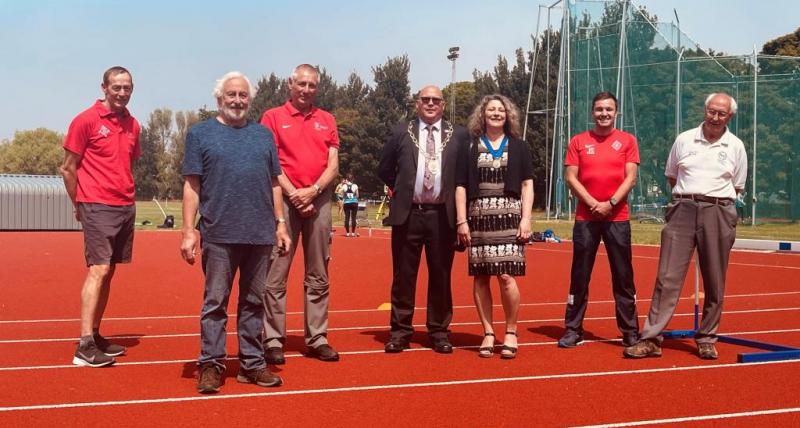 A running track used by one of the largest athletics clubs in the North East has formally reopened with a special event after a major upgrade.
North Tyneside Council has completed work on the refurbishment of the community track at Churchill Playing Fields, Whitley Bay.
Both the six-lane 400 metre track and the seven-lane 100 metre section have been resurfaced to bring the facility into line with new competition standards introduced by UK Athletics in 2019.
New perimeter fencing and an improved entry system have also been installed to protect the track from misuse and vandalism.
The facility will continue to be free for community use and slots can be booked here.
The track was reopened on Sunday (July 4) by Councillor Davey Drummond, Chairman of North Tyneside Council, who said: "I was delighted to be there on Sunday to officially open the new track. Seeing it in use and athletes of all ages benefitting from it was brilliant. I know it will continue to be a much-loved community facility."
Councillor Sarah Day, cabinet member for Culture, Sport and Leisure added: "I am delighted that we have been able to revitalise a facility that is so well used and valued by the community and our local athletic clubs.
"The pandemic has really brought home how important it is to have access to good quality facilities, and this is the latest in a string of investments by the council to maintain and improve our sports and leisure provision across the borough.
"The new-look track will ensure that local clubs and the community have a top-class facility at their disposal for training and competitions. I am very excited to see the track in use once again."
The track is home to the 117-year-old North Shields Polytechnic Club, which has over 600 members, and specialises in track and field, road running, cross country, fell running, and triathlon for both junior and senior members.
Club members helped to launch the track and put the new surface through its paces with a day of competitive sports on Sunday.
John Sutcliffe, Chair of Trustees at North Shields Poly Athletics Club, said: "The refurbishment of the Churchill Community Track has provided opportunity to thousands of current, future and even past athletes from members of the local community and our club.
"North Shields Poly goes from strength to strength and we are extremely proud of our relationship with North Tyneside Council with the ongoing management of the facility. The Council's commitment to sport and leisure is something we can all be proud of and something we are extremely lucky to have. Their support in assisting North Shields Poly to achieve its charitable aims of promoting community participation in healthy activities will have countless health benefits at a time of national and local challenges."