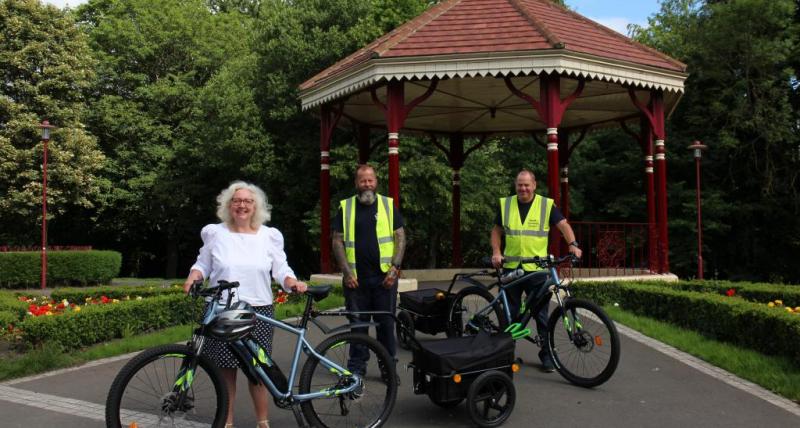 A North Tyneside Council team tasked with keeping the borough clean, safe and well-maintained have turned to electric bikes to help them get around.
Back in 2019, the local authority declared a climate emergency and has since been making many changes to reduce its impact on the environment.
Its latest move has seen electric bikes introduced within its Wallsend street cleansing teams as part of a six-month pilot.
Responsible for helping to keep the area free of litter, graffiti and dog mess – the team often travel in diesel-fuelled vehicles but will instead try out this greener way of getting around.
The news comes as the local authority trials the use of an electric bin wagon this week – collecting waste from homes in Killingworth, Wideopen, Longbenton and Benton using the loaned vehicle. 
Cllr Sandra Graham, cabinet member for Environment said: "A key priority for the council is tackling climate change – this includes improving air quality and promoting sustainable transport and all the benefits it brings – and we are continuously looking at ways to do so.
"Our street cleansing team covers hundreds of miles each year in different vehicles and it would be brilliant if we can reduce this through the use of electric bikes. 
"The same can be said for our refuse vehicles, which travel approximately 180,000 miles each year and use a lot of fuel. Our ambition in the coming years is to replace them with vehicles with zero emissions and this trial will help us in our decision making.
"We're pleased to already use several electric vehicles to provide construction, housing repairs, and maintenance services for 14,000 homes and properties in the borough – and it would be great to expand this further.
"Both of the trials are very exciting, and I look forward to sharing the results with residents in due course."
The council continues to make inroads in reducing its carbon footprint and helping residents to play their part.
Plans have been drawn up to create 14km of new cycling routes in the borough, and an option for the first 'Dutch-style' roundabout in the region. A public consultation has recently ended and will now be evaluated.
Other initiatives have seen low carbon heating installed in four of the council's most energy-intensive buildings and in homes across the borough. The council's depot in Killingworth is also being redesigned to be an exemplar in energy efficiency and generation.   
Recently, seven water fountains have been installed along the borough's coastline, with the aim of reducing the number of single-use plastics bottles, and more will be installed elsewhere in North Tyneside in the coming months.
A 6ft sculpture of a seal has also been created out of litter collected from the borough's beaches to help people visualise the impact of dropping litter on the environment and marine life.