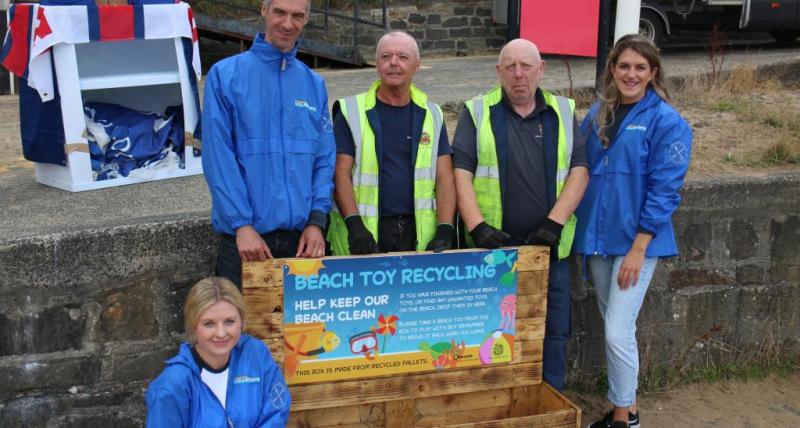 A day at the beach has got a whole lot easier in North Tyneside with the launch of toy recycling boxes for families to use.
Made of recyclable materials, earlier this month, North Tyneside Council installed a beach toy recycling box on Longsands for children to leave behind unwanted buckets and spades for others to borrow.
It's part of the local authority's work to reduce the amount of plastic in the borough and litter left on beaches and to encourage people to reuse and recycle.
The installation saw overwhelmingly positive feedback on social media from as far away as Spain – with people calling on councils up and down the country to install them.
And following the success, boxes have now been rolled out to King Edward's, Cullercoats and Whitley Bay beaches.
Phil Scott, Director of Environment, Housing and Leisure, said: "The response from the public has been phenomenal and we're delighted to be able to expand the scheme to our other beaches.
"Council teams, as well as community-spirited residents, regularly pick up discarded beach toys right along the coastline, which could otherwise end up in the sea.
"Since we declared a climate emergency in 2019, we have set ourselves ambitious targets to ensure we reduce our carbon footprint and we have already made huge in roads. However, we absolutely need residents help too. We can all take small steps, like always recycling wherever possible, to help create a more sustainable North Tyneside."
David Wynd of Cullercoats Collective, a local community group, added: "The beach toy recycling box is a great addition to Cullercoats Bay. This scheme will hopefully see less plastic waste left on our beaches as those forgotten buckets and spades can be stored here for others to use.
"It is great that North Tyneside Council is working on simple and collaborative projects to tackle littering and plastic waste. This simple idea will help make our beaches a great place to visit for everyone."
The news comes as the council continues to make more progress in reducing its carbon footprint and helping residents to play their part.
Plans have been drawn up to create 14km of new cycling routes in the borough, and an option for the first 'Dutch-style' roundabout in the region. A public consultation has recently ended and will now be evaluated.
Other initiatives have seen low carbon heating planned in four of the council's most energy-intensive buildings and installed in homes across the borough. The council's depot in Killingworth is also being redesigned to be an exemplar in energy efficiency and generation and the use of more electric vehicles.
Seven water fountains have recently been installed along the borough's coastline, with the aim of reducing the number of single-use plastics bottles, and more will be installed elsewhere in North Tyneside in the coming months.
A 6ft sculpture of a seal has also been created out of litter collected from the borough's beaches to help people visualise the impact of dropping litter on the environment and marine life.