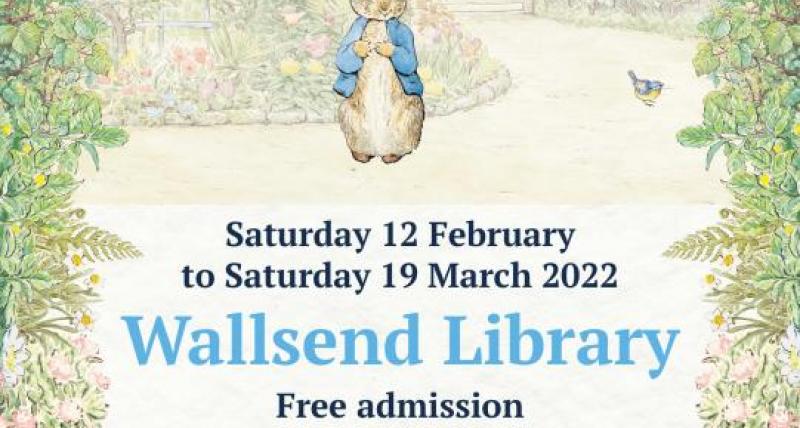 10 February 2022 - 9:51am
A brand new story time trail about one of the world's favourite children's books heads to North Tyneside this week.
The World of Peter Rabbit™ Storytime Trail will premiere at Wallsend Library this Saturday 12 February and will be in place for five weeks.
The Tale of Peter Rabbit by Beatrix Potter was first published by Frederick Warne & Co, now part of Penguin Random House UK, back in 1902. 
The World of Peter Rabbit™ will be celebrating 120 years of mischief throughout the year and this interactive exhibition will be a walkthrough experience where little bunnies will be able to crawl under the garden gate, hide in a watering can and see their reflection in a mirror pool, just like Peter! 
With photo opportunities and activities to take part in along the way, it's a great chance for families to celebrate his birthday.
Norma Redfearn, Elected Mayor of North Tyneside, said: "We know just how special and important the works of Beatrix Potter are to generations of children and adults alike and we're thrilled to be the first port of call for this truly enchanting event.
"The exhibition will really capture the imagination with some beautiful artwork and I know our local schoolchildren and their families will really enjoy all the interactive features."
Beatrix Potter's stories started life as picture letters written to the children of her family and friends. Often the characters in them were real animals she kept as pets including rabbits called Peter Piper and Benjamin Bouncer and a hedgehog names Mrs Tiggy-Winkle.
The World of Peter Rabbit Storytime Trail is supported by the Welcome Back Fund, ERDF action to support town centre recovery and the safe return to our high streets following the pandemic.
Wallsend Library is open between 9am and 5.30pm Monday to Friday and between 9am and 1pm on Saturdays.
The exhibition will run between 12 February and 20 March 2022.
For further information visit www.peterrabbit.com and follow @officialpeterrabbit and #PeterRabbit120 on social media.