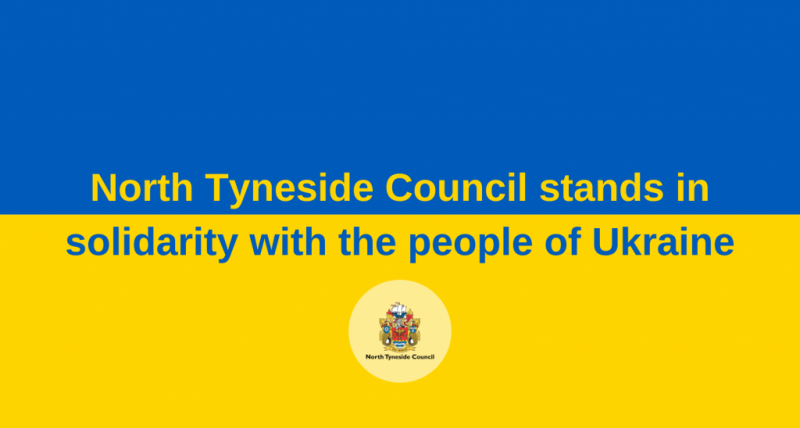 28 February 2022 - 4:25pm
In a show of support for the people suffering because of the Russian invasion of Ukraine, we'll be flying the Ukrainian flag at our main offices and Killingworth site and from Wednesday, we'll also be illuminating St Mary's Lighthouse alternating between blue and yellow and lighting our Killingworth site blue and yellow.
Norma Redfearn CBE, Elected Mayor of North Tyneside, said
"On behalf of North Tyneside Council, I want to show our full, unwavering support for the families, residents and communities who are suffering because of the Russian invasion of Ukraine.
"The heart-breaking scenes that are being broadcast across the world are unimaginable and the spirit, bravery and determination the people of Ukraine are showing to protect themselves, their homes and their families is incredible.
"North Tyneside is proud to be home to many unique and diverse communities, we are a welcoming borough and I hope everyone who lives here, from any background, feels safe and part of our borough.
"I would like to reassure any Ukrainian national or people of Ukrainian descent in our region that you have the full, ongoing support of North Tyneside Council.
"I would call on Governments across the world to continue their support of Ukrainians fleeing from this war and to impose the toughest sanctions possible on the Russian aggressors.
"We are a council that has a proud tradition of supporting people looking for safety and sanctuary.
"Once there are clear national plans in place from the government, we will work alongside our colleagues and partners to ensure that the relevant support is in place for Ukrainian refugees.
"Our thoughts and prayers are with all those affected by the conflict which I hope is resolved soon."
If you want to donate you can do so via
We'll share more local info if and when it becomes available