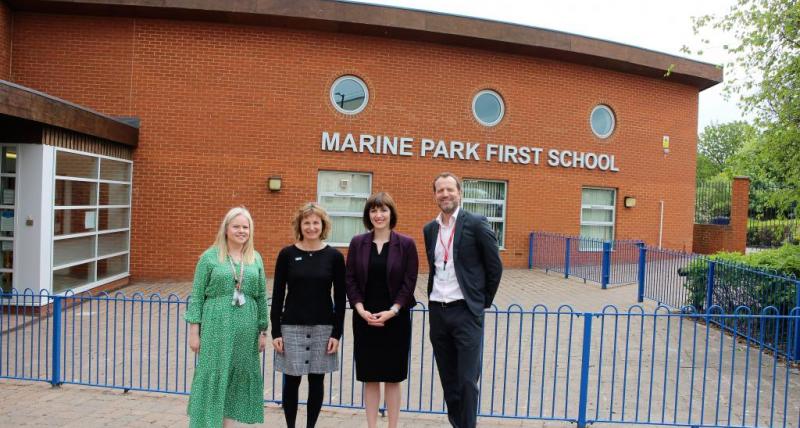 Whitley Bay based Marine Park First School received a special visit from Labour's Shadow Education Secretary, Bridget Phillipson on Friday (13 May).
The visit was centred around the schools successful Reading Recovery programme, where children receive daily one-to-one lessons for 30 minutes with a specially trained teacher to support them to reach expected standards of reading and writing.
Bridget Philipson, who is also the MP for nearby Houghton and Sunderland South, joined one of the sessions to learn more about the impact the programme has on pupils' developments.
Reading Recovery has been running at Marine Park First School for seven years as a short-term intervention that's aimed at lifting the literacy levels of the lowest 20% of six-year-olds. Studies of the programme have praised the scheme for creating a sustainable impact on children's literacy levels from intervention through to their GCSE's.
Speaking of the scheme, Bridget Philipson MP, said: "Ensuring children recover their education – their learning and development – from the pandemic is one of the greatest challenges facing our country today.
"It's particularly important that we support vital work to improve literacy among our youngest children, for whom the pandemic has been such a big chunk of their lives.  Marine Park's scheme is an inspiration, ensuring every child gets the opportunity to achieve and thrive."
Headteacher of Marine Park First School, Stephen Easton, said: "We are extremely proud of the impact the Reading Recovery programme has on our pupils and we are delighted to have welcomed Bridget to the school today to showcase just how brilliant the scheme is.
"It was great to see our children interacting with Bridget and to have received recognition and praise from such a prominent MP is a real boost to the school and something I'm sure our staff and pupils will remember with pride."
Elected Mayor of North Tyneside, Norma Redfearn CBE, said: "North Tyneside is a place where children can receive a great education and thrive, and we are delighted to have welcomed Bridget to the borough today.
"Marine Park School is a great example of how the Reading Recovery programme can be put in place to support pupils to improve their vital literacy skills and give them the best chance to succeed in their education."
Whilst at the school, Bridget also delivered careers talk to 90 pupils from year three. Bridget covered everything from her experience at school through to her experience as a prominent MP. The pupils also had the opportunity to ask Bridget questions.
The Reading Recovery programme is delivered by a regional teacher leader, Kerry Clegg, on behalf of North Tyneside Council. The programme is also in place in other schools across the borough and Kerry works with each school to support on all aspects of reading and writing for the lowest achieving pupils.