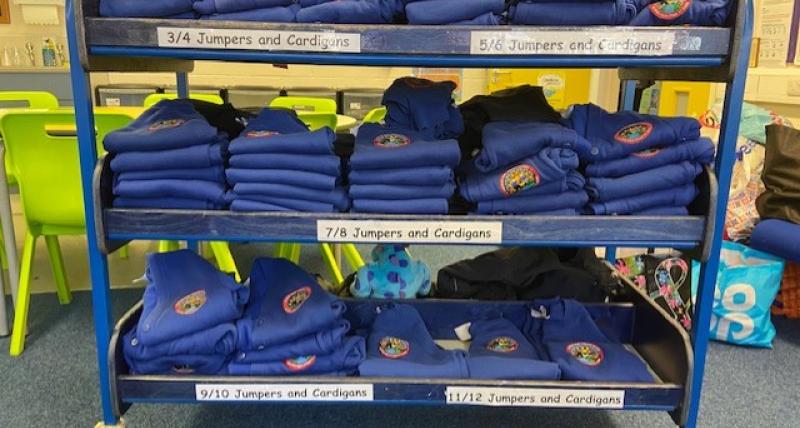 The average cost of uniform for a primary age school child is £315 per year, and for secondary age school pupils this increases to £337 per year (The Wrong Blazer Report 2020).
This, coupled with the fact that an estimated 350,000 tonnes of clothes end up in landfill every year, means there is room for improvement in how families access uniform for children and young people.
The situation is magnified by the rate at which children and young people grow in adolescence, as many items can need replacing throughout the school year.
To help combat this, schools across North Tyneside are all actively looking to review and improve the way families access uniform, with some already adopting good practice in making uniform more cost effective and better for the environment.
Schools in the borough are running uniform schemes to support families and reduce clothing waste. The schools that we are aware of are listed below, but please speak to your child's school to check what support they can offer.
Amberley Primary School

Benton Dene Primary School

Benton Dene School

Hazlewood Community Primary School

Redesdale Primary School

Shiremoor Primary School

Spring Gardens Primary School

Monkseaton High School

St Thomas More Roman Catholic High School

Burradon Community Primary School

Carville Primary School

Christ Church C of E Primary School

Hadrian Park Primary School

Percy Main Primary School

John Spence Community High School

Norham High School

Whitley Bay High School
Some of the examples of their work includes:
Hadrian Park Primary School
The school has a trolley of pre-loved uniform which one of their parents takes to a central spot at the school gates on a Monday and Friday at the end of the school day.
The items on the trolley can be bought for £1 or parents can bring an item to swap for another item.
Learning Mentor at Hadrian Park Primary School said: "Parents at the school are really on board with this and we do feel that the stigma around pre-loved clothing is diminishing."
Whitley Bay High School
The coastal based secondary school has an account with its local uniform provider where the school can pre-pay for uniform for some students. The school also holds a small stock of items to distribute, discreetly, to students when an item is required and isn't attainable, including PE kit.
For colder months, the school has an arrangement with Newcastle United for donations of winter coats which are then distributed to students in need.
The Assistant Headteacher also explains how this ethos is transitioning into school trips too, "We recognise the need for waterproof clothing in some circumstances, so we have purchased ponchos, that way all staff and students are dressed the same." 
Benton Dene School
At Benton Dene School there's a few opportunities where spare or pre-loved uniform can be distributed to families.
At parents' evenings, a table of available items are left out for parents to take what their child may need.
The school also hosts specific pre-loved coffee afternoons where parents can bring uniforms in and swap for bigger sizes etc.
Finally, there is information shared in the school newsletter where parents are invited to contact the home school link team, who will put a collection of items together and send them home.
Burradon Community Primary School
Burradon Primary has been liaising directly with parents to ask questions about their uniform needs.
Local schemes are advertised on the school's website and a stock of donated items is kept in school and is distributed to parents who complete a uniform request sheet.
Before the summer holidays, the school also hosts a Swap Shop where parents can donate uniform which is now too small and swap it for items which have been donated by other parents to be used in the next school year. 
Norham High School
Norham High School has set up an in-house uniform bank which allows the school to support pupils swiftly and with no stigma attached.
The project provides free of charge new and preloved uniforms as well as other items, all year round. This is not means-tested.
As a school, they aim to:
- Meet the needs of all our pupils no matter what their circumstances
- Provide a whole school uniform to help any young person integrate into our school community
- Increase community involvement with our school 
The initiative, delivered in conjunction with the Council, ensures each and every young person has a school uniform regardless of their circumstances. The initiative not only helps families save money but also encourages families to do their bit for the environment by recycling and reusing preloved school uniform.
Monkseaton High School
Monkseaton High School used funds from the Household Support Grant to create uniform packages for families.  This allows a student to receive the following, brand new items of uniform: two school polo shirts, two school sweatshirts, one PE polo shirt, one pair of PE shorts, one pair of PE socks, one winter jacket. They place the order with its uniform supplier, which then delivers it to the student's home address. The school also has a well-stocked and well-used Uniform Swap Shop in school, so once students have grown out of the initial items purchased, they can bring them in to exchange.
New guidance
New guidance comes into play in September 2022 which requires schools to make uniforms affordable for families. Schemes like these are paving the way to help families to simultaneously save money and address the climate emergency.
Speaking of the schemes, Cllr Steven Phillips, Cabinet Member for Children, Young People and Education at North Tyneside Council, said: "We know that the cost of school uniform can be a concern for some and it's brilliant to see our local schools being proactive and supporting their pupils and families to access uniform while also reducing clothing waste.
"With the rising cost of living and a climate emergency, schemes like these are extremely beneficial and I'd encourage anyone who can join initiatives such as swapping uniform sizes or donating old or unused uniform to get involved."
Contact your school to find out what options are available for your child(ren).
There is also a national scheme for families to buy and sell pre-loved uniform here.