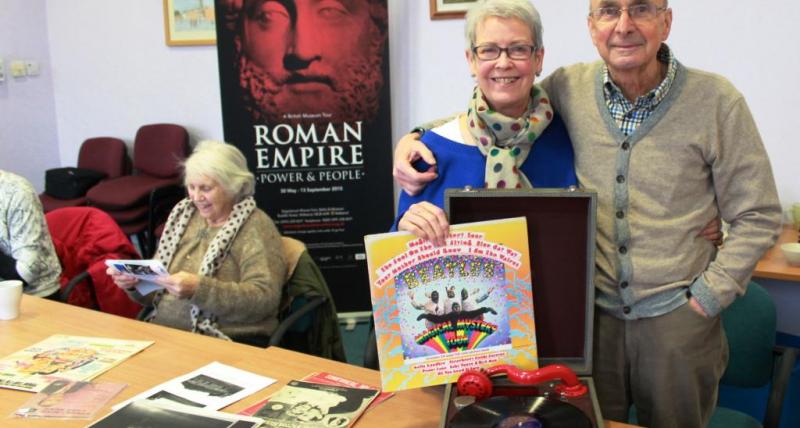 19 November 2015 - 10:04am
As part of its commitment to be a 'dementia-friendly' borough, attractions and services in North Tyneside are making it easier for those with the condition and their families to visit.
Getting underway in Wallsend, North Tyneside Council and Age UK North Tyneside have joined forces to make the borough more 'dementia-friendly'.
A whole host of community facilities and services have shown their support, from leisure centres to a popular museum, cafes and gardens, local businesses and transport operators.
And at a recent Health and Wellbeing Board – which brings together the local authority, NHS, patient representatives and the community and voluntary sector – members heard about the latest work.
Cllr Lesley Spillard, who chairs the board as part of her duties as cabinet member for Public Health, said: "This brilliant project helps to strengthen our communities and ensure we can pride ourselves on being 'dementia-friendly'. 
"As well as making sure we improve access to community facilities and services, it also aims to challenge stigma associated with dementia and increase understanding. 
"Through this important work, we hope North Tyneside will be recognised as a borough where those living with dementia are supported, respected and have the confidence to continue their involvement in community life.
"Following all of the great work in Wallsend, work is now being undertaken to officially register the town as a 'dementia-friendly community', and I look forward to hearing more about the project as it expands across the borough."
During the meeting of the Health and Wellbeing Board, members were told about successful projects including one at Segedunum Roman Fort, which is run by Tyne & Wear Museum & Archives, where a history group has been established.
The group has named itself 'Time Travellers' and those with dementia and their friends and family can go along and look at the museum's archive collection, as well as bring along their own objects and photos from the past to talk about.
The Health and Wellbeing Board also heard about council-run leisure centres taking part in 'dementia-friendly audits', looking at how they can improve signs, ease of access and decor to make it easier for those with dementia to visit and enjoy.
Leisure centre staff are also some of the 5,341 people who have completed 'Dementia Friends' awareness sessions in the borough.
Delivered by Age UK North Tyneside, council officers and local dementia champions, the training helps people to better understand how those living with dementia may feel and how their perceptions change, as well as giving advice on how to approach and better support someone with the disease.
Another successful project has seen the council's Grow & Eat project work with Age UK North Tyneside to develop a community garden.
Ready in time for spring, it will provide gardening activities for people with dementia and their carers, helping them to pursue hobbies they may have had in the past but may find harder now, as well as providing an outdoor social space.
And Memory Cafes have also been established in Wallsend and Whitley Bay, providing an informal environment where people can gain mutual support and share ideas, advice and information about dementia. The sessions take place at the following locations:
Olives at the Station, Whitley Bay, 10am to 11.30am, on the third Wednesday of every month
The Olive Branch Cafe, The Wallsend Memorial Hall, NE26 6RN, 2pm to 3.30pm, on the fourth Wednesday of every month
Whitley Bay Comrades Club, 14 The Links, Whitley Bay, NE26 1PS, 1.30 to 3.30pm, on the last Thursday of each month.