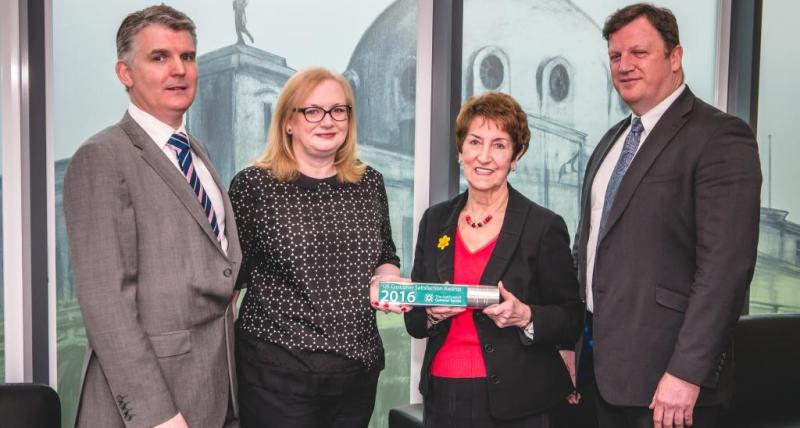 North Tyneside Council, in partnership with ENGIE (formerly Cofely GDF SUEZ), has won a prestigious national award for its excellent customer service.
The Best Application of Technology award was given to the partnership at the UK Customer Satisfaction Awards 2016 in recognition of how it has successfully applied technology to improve services.  This includes an upgraded website and an automated system to speed up processes and improve response times for customers.
Elected Mayor Norma Redfearn commented: "This major award shows the importance of the partnership work we are doing to make our services better for our residents while also improving efficiency and cutting our costs.  It is a fantastic reflection of how North Tyneside Council's innovative use of technology is being recognised at a national level.
"The partnership's success in not only a testament to the hard work of each and every one of our staff, but also the ongoing commitment at every level of the organisation to delivering improved outcomes for customers and the benefits of providing an excellent customer experience."
The council website my.northtyneside.gov.uk now processes more than 10,000 customer transactions per month, increasing by around 10 per cent each month.  In addition, analytics and detailed reporting on customer use have enabled the website to continually evolve to meet customer needs.
The introduction of robotic process automation (RPA) has significantly improved access to revenues and benefits services with a 50 per cent reduction in data input times, speedier times taken to process new claims and an overall improved customer experience.
Mike Hedges, ENGIE Partnership Director added: "Our strategy for North Tyneside Council has made improvements to customer service a priority. Under a 10-year partnership contract with North Tyneside Council, ENGIE will deliver a range of key services, and guarantee savings totalling £33.8million through investment in improving systems and services."
More than 100 companies were shortlisted for these national awards organised by the Institute of Customer Services to showcase organisations that place the customer experience at the heart of their business strategy and build a sustainable culture of customer service within their organisation.
Jo Causon, CEO of the Institute of Customer service said: "Customer satisfaction across the UK is improving, but that does not give organisations any room for complacency.  By winning the award for Best Application of Technology, ENGIE & North Tyneside Council are being recognised for their hard work and commitment to delivering a great customer experience, and should be congratulated for their efforts as they are now setting the standards others should follow."
Further Information:
Priorities for the integrated online form and robotics systems were to:
Deliver an improved and faster service to claimants
Enhance the customer experience by providing 24/7/365 access
Drive down processing days so residents could get their benefit faster
Improve service efficiency
Reduce costs without negatively affecting service quality
Outcomes for Customers
Website traffic has grown 38 per cent since launch of new site – equivalent to an extra 5,000 customers a week
Days to process benefits new claims reduced from an average of 36 days in September 2014 to an average of 20 days in September 2015.
83 per cent of new claims for benefits are now made via online forms and 91.4 per cent of customers reported no difficulty using the form
Customer Satisfaction overall continues to regularly exceed 85 per cent.
Ends