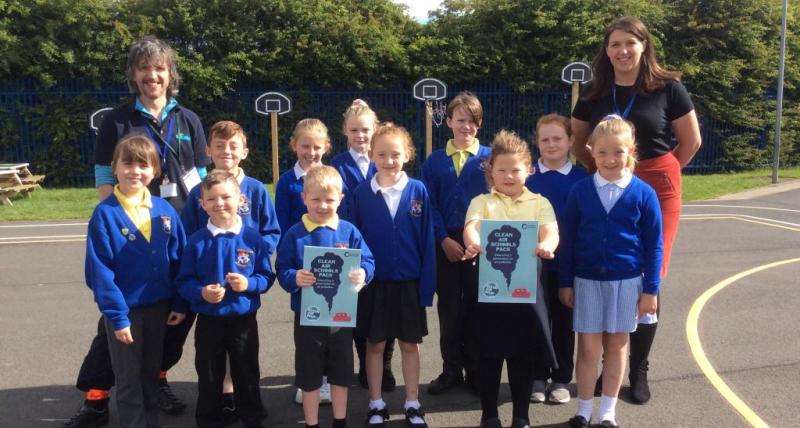 Schoolchildren across North Tyneside are doing their bit to help improve air quality.
Ten schools in the borough have been given air monitoring tubes to check the air quality around their site.
The tubes will remain in the school grounds for two weeks before being sent back to experts for analysis and reporting.
It's part of World Environment Day today (5 June) which has seen North Tyneside Council's Go Smarter project team up with Friends of the Earth to educate children on air pollution.
The schools have been selected to receive clean air packs, which contain lesson plans based on air pollution, educational posters and a downloadable assembly.
Cllr Carl Johnson, cabinet member for Environment and Transport, said: "Our Go Smarter team does valuable work to encourage school pupils, staff and parents to walk, cycle and use public transport.
"This initiative will help to further incorporate air pollution into the curriculum and hopefully bring about behavioural change, particularly among parents who currently park near the school gates."
The Go Smarter team delivered a clean air pack to children and staff from one of the schools selected to take part, Shiremoor Primary School.
Victoria Peart, School Council co-ordinator, said: "It is a vital part of our curriculum to encourage our children to become responsible citizens and as such they take a passionate interest in environmental issues.
"Children are keen to encourage each other to make small changes such as riding bikes or walking to school rather than taking the car which will make a big difference to our future. We are looking forward to seeing the impact of our clean air monitoring tubes." 
Meanwhile, the council is making steady progress to meet the Elected Mayor's call to action to reduce single use plastics in the borough.
In leisure centres this includes cutting the amount of plastic products and packaging used, recycling more, ensuring any catering contracts do not use single use plastics and any new operators are scored on their environmental impact.
The action plan has also seen the introduction of wooden cutlery and glass drinking bottles in the council's Quadrant offices while a mobile water fountain has been introduced for use at public events.
In addition, the authority is supporting the Young Mayor's campaign for water refill stations across the borough, promoting reusable hot drinks containers and working with suppliers to use smaller plastic containers.
The school packs are part of the Friends of the Earth Clean Air campaign which aims to help address the 36,000 premature deaths per year in the UK linked with air pollution. The charity also reports that 2,091 UK educational institutions are within 150 metres of a road with illegal levels of nitrogen dioxide.
Any school may register itself for a free Friends of the Earth Clean Air school pack.
Find out more about the Go Smarter project in North Tyneside.