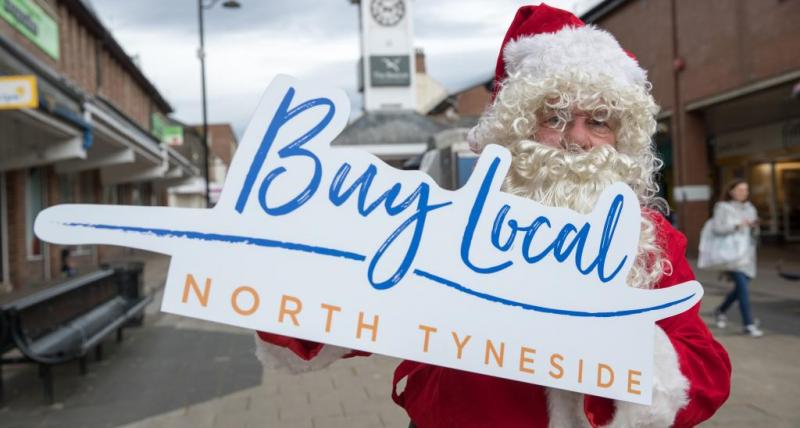 26 November 2020 - 4:47pm
Residents in North Tyneside are being encouraged to buy local this Christmas.
North Tyneside Council has teamed up with the three local business chambers to promote the Buy Local North Tyneside campaign.
The idea is to support local businesses, shopping centres and high streets all across North Tyneside following one of the most difficult periods in living memory caused by the Coronavirus pandemic.
It was started by a group of business owners and managers and the business chambers of North Shields, Wallsend and Whitley Bay as a digital high street to encourage footfall and highlight the shops and businesses that are still operating even during periods of lockdown.
As the current national lockdown nears an end, residents are being urged to get behind businesses in the borough like never before and shop local, while keeping safe and following the latest public health guidance, for Christmas. Residents are also encouraged to buy online from local businesses where possible.
To support the effort, the council has provided advertising and promotion throughout the borough promoting the Buy Local website, which lists local businesses and community groups. The group is also promoting businesses, events and local information through social media channels including shared video content.
It comes after the authority recently launched its support grants scheme for businesses affected by the local and national restrictions to apply for Government funding.
This is in addition to the council having paid out more than £34million of grant funding to 3,000 businesses across three support schemes since the pandemic began, while a number of other resources, including a free helpline, have been provided by the North Tyneside Business Forum.
There's a further boost for local businesses after the council confirmed free weekend car parking would be returning to the borough's town centres during December.
On-street parking is free on Sundays in North Shields, Wallsend and Whitley Bay town centres but this will be extended to Saturdays during December.
There will also be free parking on-street parking in Front Street, Tynemouth, on Saturdays and Sundays.
In addition, there are already hundreds of free spaces available in some council-managed car parks, and Priors Haven car park in Tynemouth.
Cllr Bruce Pickard, Deputy Mayor and cabinet member for Economic Development, said: "We know this has been a really tough year for our businesses.
"That's why I'm delighted that we've been able to put all these measures in place to support our fantastic local businesses as best we can and the return of free parking throughout December will be a welcome boost for many as they begin to reopen following lockdown.
"This is another great way to encourage people to shop locally and I would urge residents to use the Buy Local North Tyneside website which is focused on buying local and is a fantastic free local resource.
"Our businesses have introduced practical measures to ensure they are as safe as possible for the public during the continuing pandemic. I really hope our residents can support them by doing their Christmas shopping in North Tyneside."
Residents are reminded to follow the latest Public Health advice when going out to do their Christmas shopping in local town centres and high streets.
This includes washing your hands frequently for 20 seconds, wearing a face covering in enclosed environments, maintaining social distancing, minimising the number of people you see or meet and get a test straight away if you develop any Coronavirus symptoms and share your contacts so they can be traced while self-isolating along with members of your household.
Stuart Fearn from Buy Local North Tyneside said: "Our local businesses need your support more than ever - www.buylocalnorthtyneside.co.uk is a new but great resource to connect to these businesses from home.
"Week on week we are seeing significant growth in use of the site which is fabulous. Positively it is just a great sign that people are thinking local more and more and that really is our main aim. We would also encourage residents to look out for us and follow us on Facebook and Twitter."
Find more information on business support and current grant schemes and criteria.